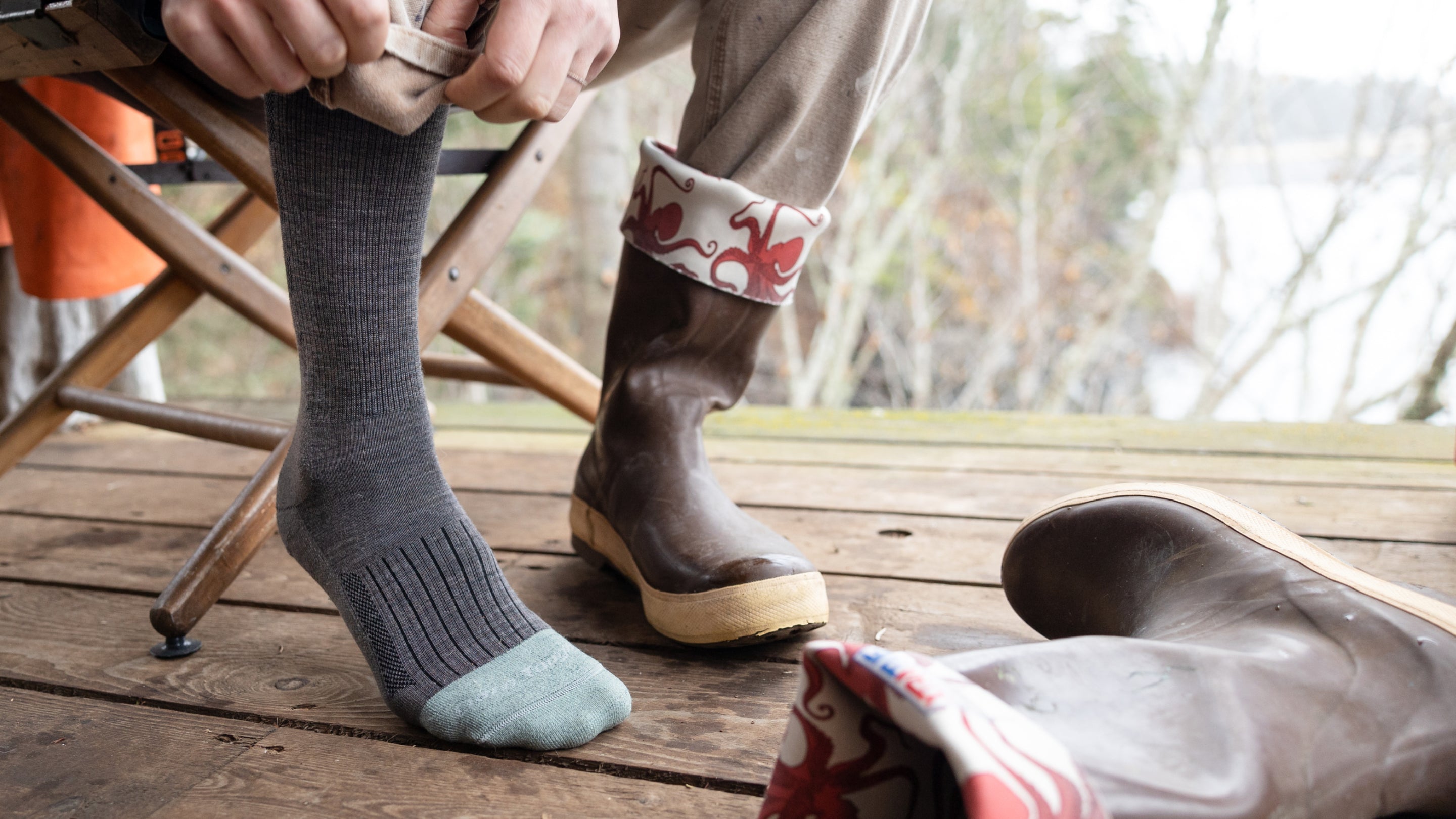 The women's work socks knit with moisture-wicking Merino Wool to keep feet warm, dry, and comfy, even in steel toe boots.
High quality Merino Wool, fine-gauge knitting, and years of lifetime warranty data combine to make these the best work socks for women. Thought-out features like reinforced toes in the Steely socks and perfectly placed cushion keep your feet comfortable, even when working on your feet all day.
These women's work socks are available in Quarter and Micro Crew heights for work shoes and duck boots, as well as Boot Sock and Over-the-Calf (aka knee high) heights for standard work boots, muck boots, and rain boots.
Learn more about what makes these the best socks for work boots. Shop our entire selection of Work Socks.
Looking for office work socks? We recommend our Lifestyle Socks for dress and casual wear.
FREQUENTLY ASKED QUESTIONS
Darn Tough Vermont sells socks for women's work boots online which we'll deliver straight to your door. You can also use the Store Locator widget on our website to find local retailers close to your neighborhood that sell Darn Tough socks for women, if you prefer shopping in person.
Cotton socks pair badly with work boots because they're not durable, don't wick moisture, and often cause blisters. If you're investing in a pair of high-quality work boots, you owe it to yourself to do the same with your socks. Darn Tough Merino Wool socks are the best for work boots, and they last forever.
The best odor-reducing work socks are made from Merino Wool. At Darn Tough, our Merino Work socks are naturally odor-resistant and prevent undesirable aromas from latching onto its fibers. It will help keep your feet healthier and your mudroom smelling better after a long day on the job.
The best summer work socks are comfortable, breathable, and moisture-wicking. Darn Tough Merino Wool Work socks are considered the best for summer because they keep your feet cool when it's hot and naturally fight back against odors – so you don't bring your work home with you.
The most comfortable socks for work are knit from high-density Merino Wool. Terry-loop cushioning underfoot provides pure comfort with every step. Plus, Darn Tough work socks are the most durable because of their patented fit – they won't ever sag or slouch while you're working.