Socks for Skiing & Snowboarding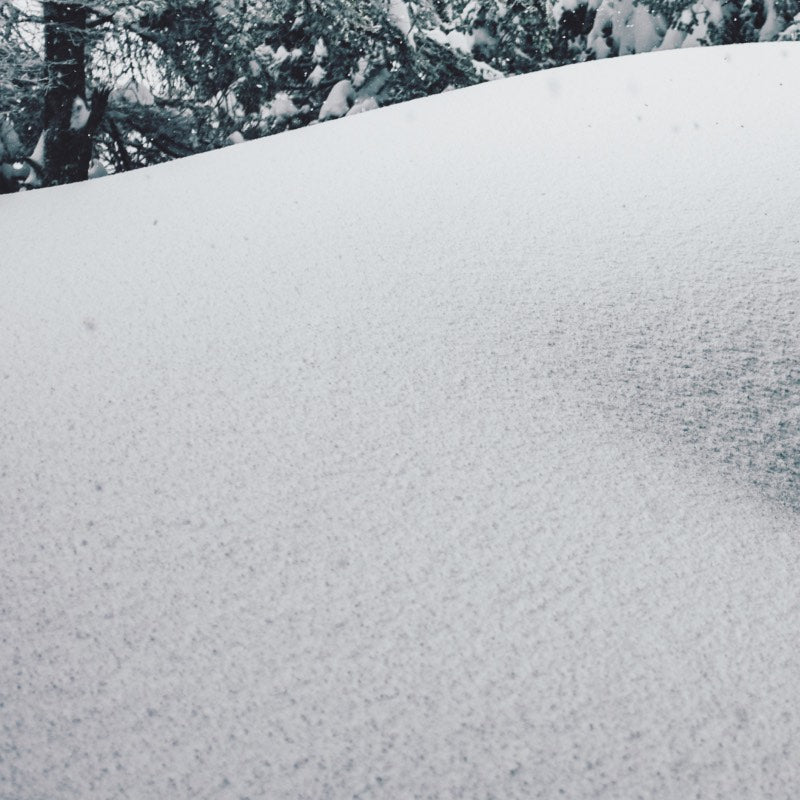 From the land of cold winter – the best socks for skiing, snowboarding, or shoveling the mailbox out.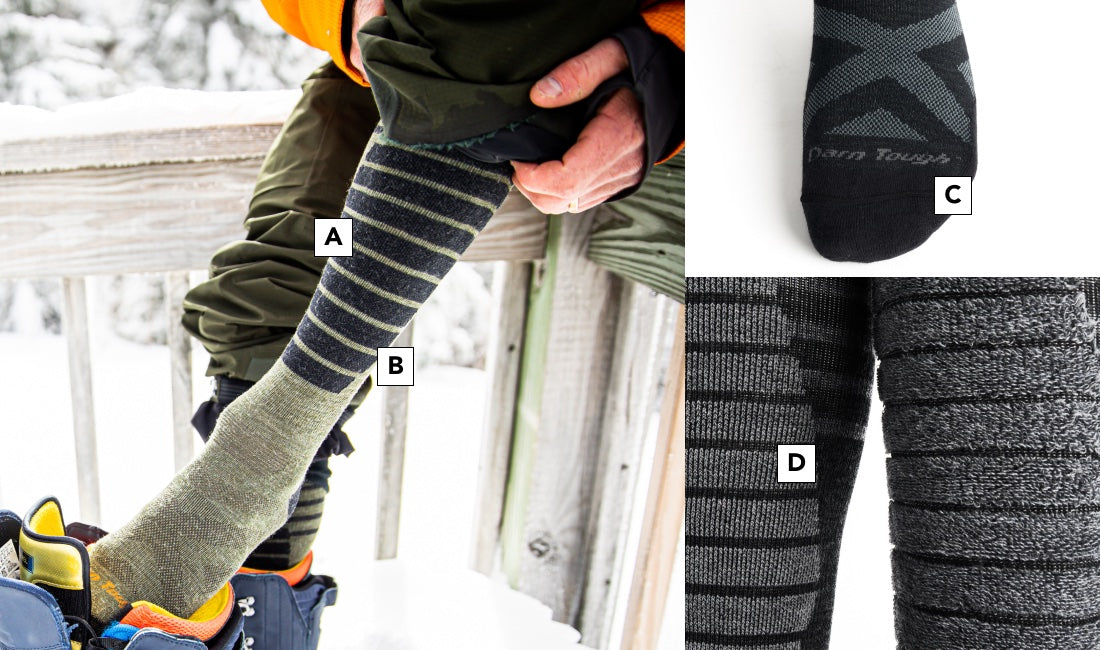 A. 100 Day Season(s) Guaranteed
Somewhere, in some yurt, someone is looking at a pair of someone's Darn Toughs asking "when did they make those?" We claim durability because we own it.
B. Warm & Breathable
Merino Wool ski and snowboard socks are the ultimate choice compared to, well, any choice. Wool regulates heat, wicks moisture, and is naturally odor resistant.
C. Seamless Fit
The True Seamless™ Toe has been a staple ski sock feature forever, but the reworked foot has created a tech fit you will never notice – and that's the point.
D. Padded Shin Cushion
For added shin protection and comfort, some styles have extra padding higher up in the leg – often tucked under a design element.

The Eastern Edge
Vermont Works for It
In Vermont we don't hike in sub-zero temps for a wide-open bowl. No, we do it to link a few sick turns. A lot of effort for simple pleasures. That's how we approach socks, too.
Choose by Activity
Alpine
Traditionally, a knee-high sock (aka over-the-calf) is the ideal sock in a ski or snowboard boot for comfort.
Shop Over-the-Calf
Nordic
With shorter boots used for most cross-country skis and snowshoeing activities, we got you covered.
Shop Nordic Boot
And So On...
To be real, when it comes to winter socks, we recommend ours, and we recommend a Boot height. 
Shop Boot Socks
Choose by Weight
Ultra-Lightweight Socks
The thinnest socks with ideal boot fit and performance for yo-yo laps in the backcountry or running gates.
Shop Ultralight
Lightweight Socks
Still a thin ski sock, but a little more to it, and with options for cushion underfoot and some with padded shins.
Shop Lightweight
Midweight Socks
When warmth is the no. 1 factor, midweight styles will end up being the warmest ski socks in the category.
Shop Midweight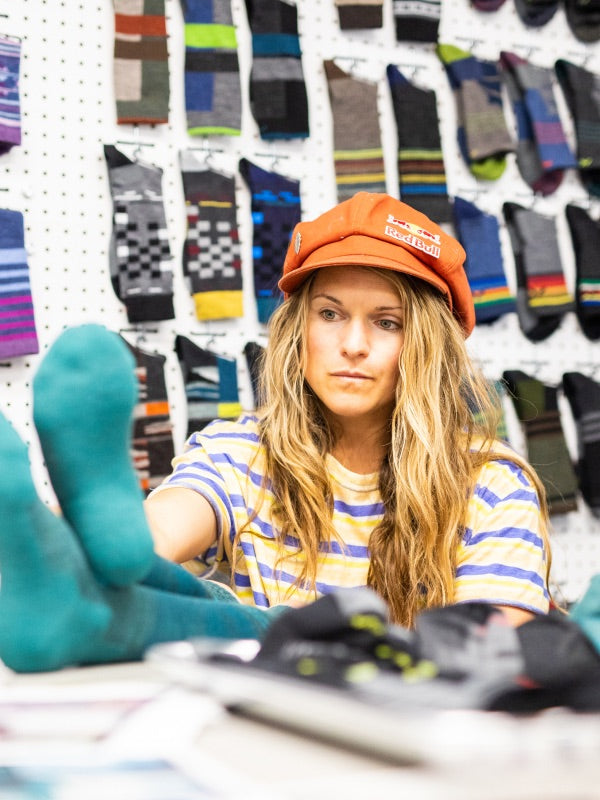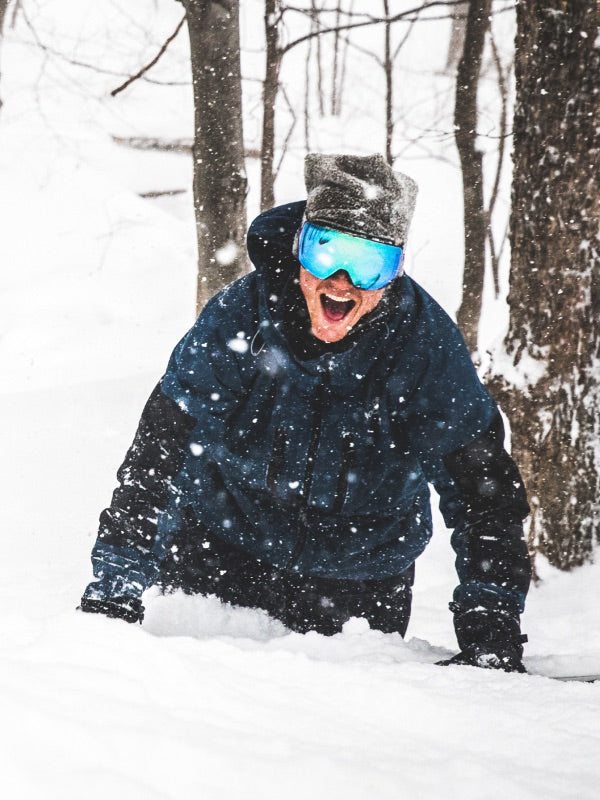 Common Value
When we started working with Michelle Parker and Jake Blauvelt to develop, design, and test our socks, it wasn't just because of their professional status. They are real. They care. They are honest. And yes, they charge. We value their input, because we share the same values. We are proud to work them, we love what they bring to the table, and we're pretty sure they love what we put on their feet.
"All of the designers are so receptive to my feedback and have really taught me a lot about what it takes to keep your feet happy on long days out in the elements." – Jake Blauvelt
Wool, Winter, Warmth
If you want your feet to stay warm and comfortable on the mountain, the best bet is to wait and put your ski socks on when you get there. If you have time to let your feet cool off from the drive, even better. Start with dry feet for the win, every time. Wearing moisture-wicking, temperature-regulating Merino Wool socks doubles down on that bet. 
"Doesn't matter how gnarly you are, if you're feet are wet and cold atop the mountain, they'll send you running for the truck heater in no time while your buds mop up all the pow." – Jake Blauvelt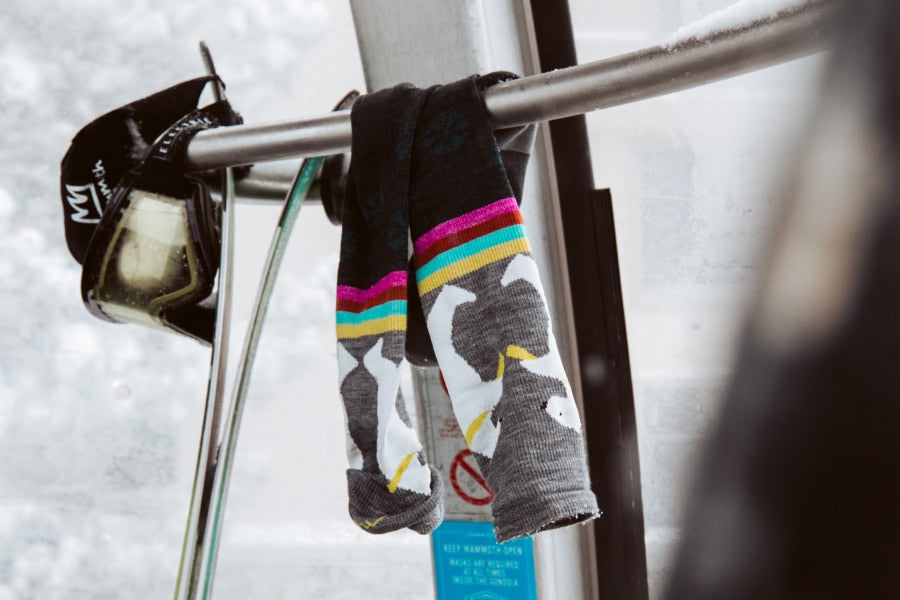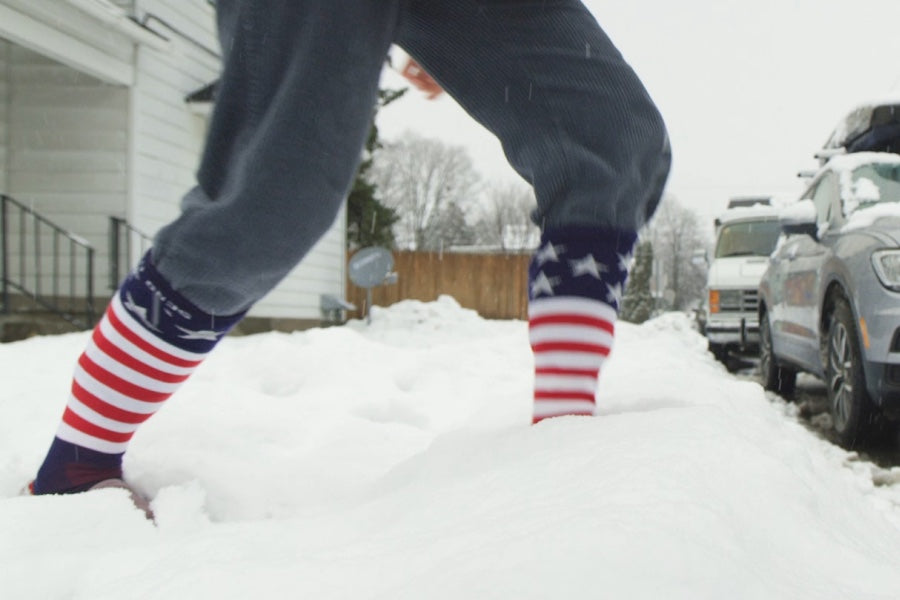 100-Day Durability
If you, or someone you know, logs 100-days a season, you probably know how most gear manages by the last day. Boots are packed out, boards are a noodle, somewhere the jacket needs repair – 100 is no joke. If our socks don't make it, we replace them for you. No receipt, no reason – just send them back so we can admire what you did. Our lifetime guarantee is our commitment to knitting the best pair of ski socks available.
"Working with Darn Tough on the development of the ski socks made me realize how much care goes into every single sock that leaves the building. The quality of these socks goes further than longevity, it's the fit, comfort, and functionality too." – Michelle Parker 
Fit for Comfort
Our ultralight ski socks are a boot fitter's dream. And yours. The True Seamless™ Toe and second-skin performance fit are the ideal choice for squeezing into your boots. We know this, because we are told this. For those looking for cushion underfoot or elsewhere in the leg – like a snowboarder – we have that too. Either way, our socks fit sublime, the arch support relieves fatigue, and the comfort will carry you to wherever it is you're going to tell your stories of the day.
"I like the shin padding on the Edge sock which helps keep shin pressure points at bay. I wear a stiff boot and have always struggled with this, no longer!" – Jake Blauvelt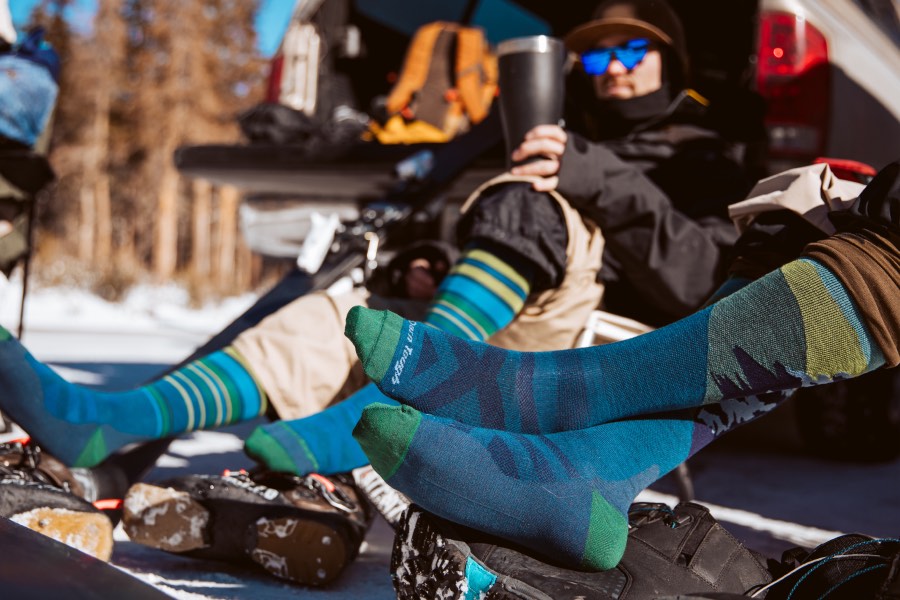 Shop All Socks for Ski & Snowboard
Shop More Socks for Winter