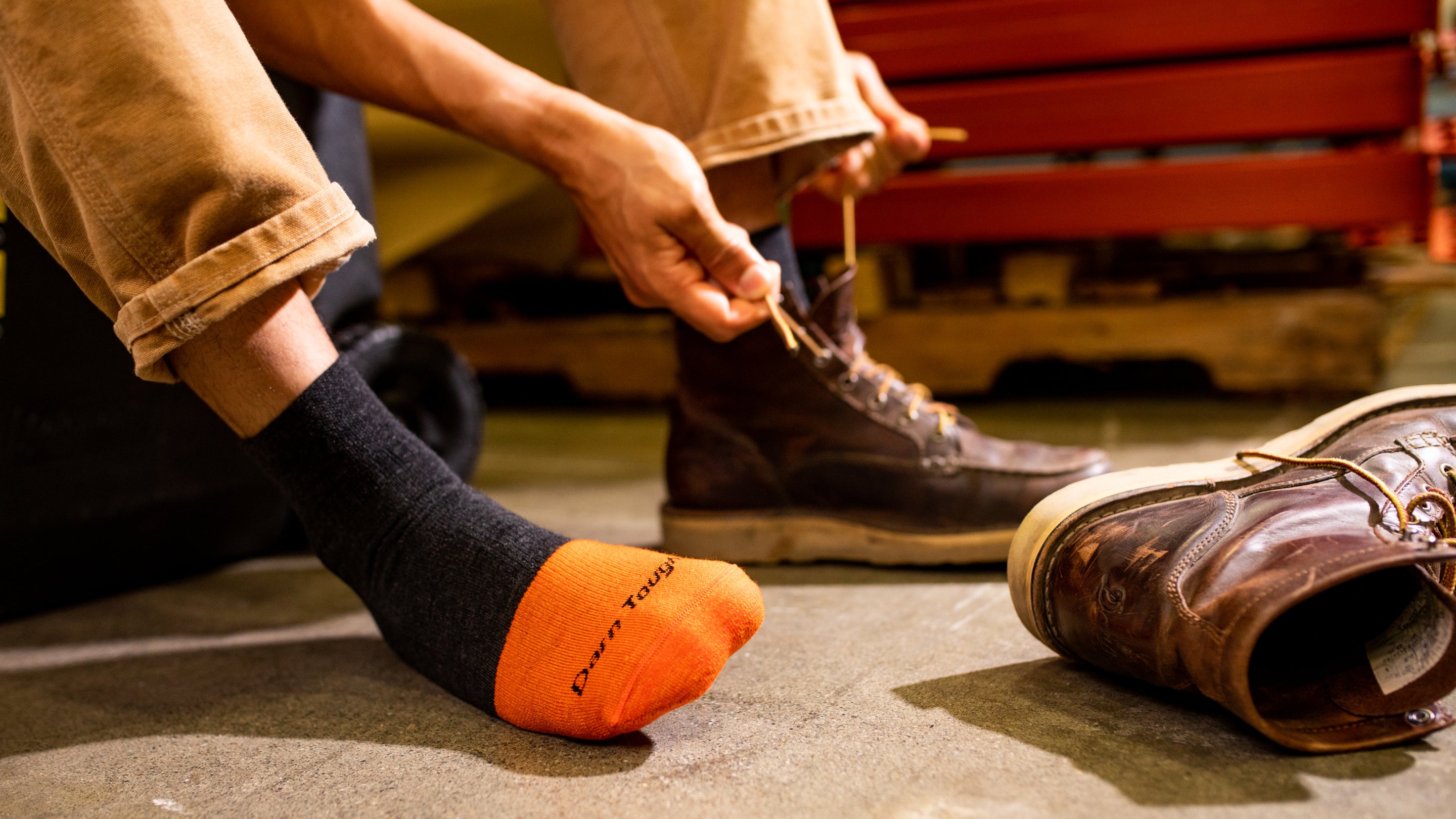 The best men's work socks built durable enough to outlast your boots – yeah, we said it. These heavy-duty men's socks are the top choice of linemen, construction workers, firefighters, industrial workers, and farmers.
You can't beat the natural thermoregulating properties of Merino Wool socks. Breathable, moisture wicking, and anti-odor, Merino Wool makes these the best work socks to keep sweaty feet dry in work boots and hot weather. If the weather turns cold, these same American made socks hold in heat, keeping your feet warm in even extreme cold.
If you're looking for wool work socks to wear with steel toe boots, the men's Steely socks are designed with a cushioned toe box for to help protect your feet in safety toe shoes. For days spent walking on concrete floors, the Full Cushion styles are thick work boot socks that pad your feet for extra comfort and rebound (the ideal pair of socks for construction workers). 
Learn more about what makes these the best socks for work boots. Shop our entire selection of Darn Tough Work Socks.
Looking for office work socks? You might try our dress socks, or any of our lifestyle crew socks for a more casual workplace.
FREQUENTLY ASKED QUESTIONS
The best men's work socks are made from Merino Wool. Darn Tough Work socks actively fight odors, prevent blisters, and protect your feet in work boots. Plus, what we knit is Guaranteed for Life – if your socks ever rip, tear, or get a hole, we'll replace them for free.
A taller Merino Wool sock will compliment your cowboy boots the best whether you're out riding or working in the barn. Darn Tough knits some of the best socks for cowboy boots (like the Westerner), offering a variety of taller, more industrious heights ranging from Crew to Boot to Mid-Calf and Over-the-Calf.
Steel toe socks add reinforced cushioning around the toe box for extra protection in work boots. Darn Tough Work socks – like the Steelys – are specifically designed for wearing with steel toe boots if your job requires it. They don't always steal the show, but they will steal your heart.
Steel toe shoes are rigid and unbending and will put holes in socks that aren't suitable or tough enough for work. Darn Tough Merino Wool socks are some of the most resilient on earth, thus making them the perfect pair for preventing holes while adding extra protection in steel toe boots.
Darn Tough Work socks come in a variety of sizes, including extra-large (XL) and above (XXL). You can use the Store Locator on our website to find out where to buy XL Work socks near you, or you can simply shop online at www.darntough.com and choose delivery at checkout.