Socks for Military & Duty Boots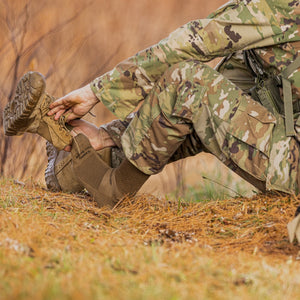 Your boots are only as tough as your socks. That's why our socks are first on foot and always your first line of defense.
A. Thermoregulating
Merino Wool naturally wicks moisture and helps regulate body temperature in all weather, keeping your soles dry when it's hot and warm when it's cold.
B. Anti-Blister
Promoting foot health is a sacred practice for soldiers, first responders, and those who rely on their feet. Namely, high-friction blister prevention – it's how our socks earn rank.
C. Breathable
Targeted mesh panels are strategically knit to enhance breathability, making Merino Wool the best at combating sweaty feet in boots.
D. Anti-Microbial
Our Merino Wool tactical socks work next to skin to inhibit the growth of harmful bacteria, keeping your feet healthy and odor-free.
Berry Compliant
Our Tactical line is knit with fibers wholly grown, processed, and produced in the USA to meet Berry Amendment compliance. 
They're the first – and best – choice for government and military use.
Choose by Weight
Lightweight Socks
The best military socks for hot weather – period. Light, versatile, and breathable, our Lightweight Tactical socks are heavy on performance but soft on your feet for sweltering days in the desert or humid days in the jungle.
Shop Lightweight
Midweight Socks
Tried and true for temperate weather, you'll find our Midweight socks offer confidence year-round. For strenuous days in combat boots, police boots, and other duty boots, these foot-hugging Tactical socks are first on foot for a reason.
Shop Midweight
Heavyweight Socks
Knit to withstand the intense cold, our Heavyweight socks keep your feet warm in extreme conditions. Built for frigid days, these socks go the extra mile to protect your feet against the most punishing and severe weather.
Shop Heavyweight
Safe to Fly
Certain styles – including our T4021, T4033 and T4050 tactical socks – have received Safe to Fly Product Certification from the United States Air Force (USAF). 
This three-year certification confirms these socks meet 
all Flame Resistant (FR) and No Melt No Drip (NMND) requirements identified by the USAF. For firefighters and 
air force personnel, that means they can be worn as under-layers, or next-to-skin, beneath approved Flame-Resistant Combat and Utility Uniforms.
Tactical Fiber
The magic of Merino Wool is that it's naturally durable, moisture-wicking, and odor-resistant – aka better for your foot health. It's nature's most befitting gift for military personnel, plus it lasts forever – at least what we knit does. It's flame-resistant, temperature regulating, and available in approved military-spec colors, including OCP sock colors. It's a tactical fabric as tough as your drill sergeant, and that's saying something.
Most Durable on Earth
Our socks are battle-tested in the rugged foothills of Vermont's Green Mountains, so you know they're built to last. True to their name, Darn Tough knits a longer lasting sock offering unrivaled durability in duty boots, including combat boots and firefighter boots. They'll keep going as long as you do, and then some. Plus, they're backed by our Unconditional Lifetime Guarantee. So, if they ever rip, tear, or lose their fit, we'll replace them.
Fit That Lasts Forever
The best-fitting sock is one that keeps your feet active and engaged all year long. Darn Tough Tactical socks fit no matter the environment and naturally help maintain your first line of defense – your foot health. No matter where you're stationed, our socks offer a performance fit that lasts forever. And because they fit so well, you'll forget you're wearing them.
Shop All Socks for Tactical Footwear