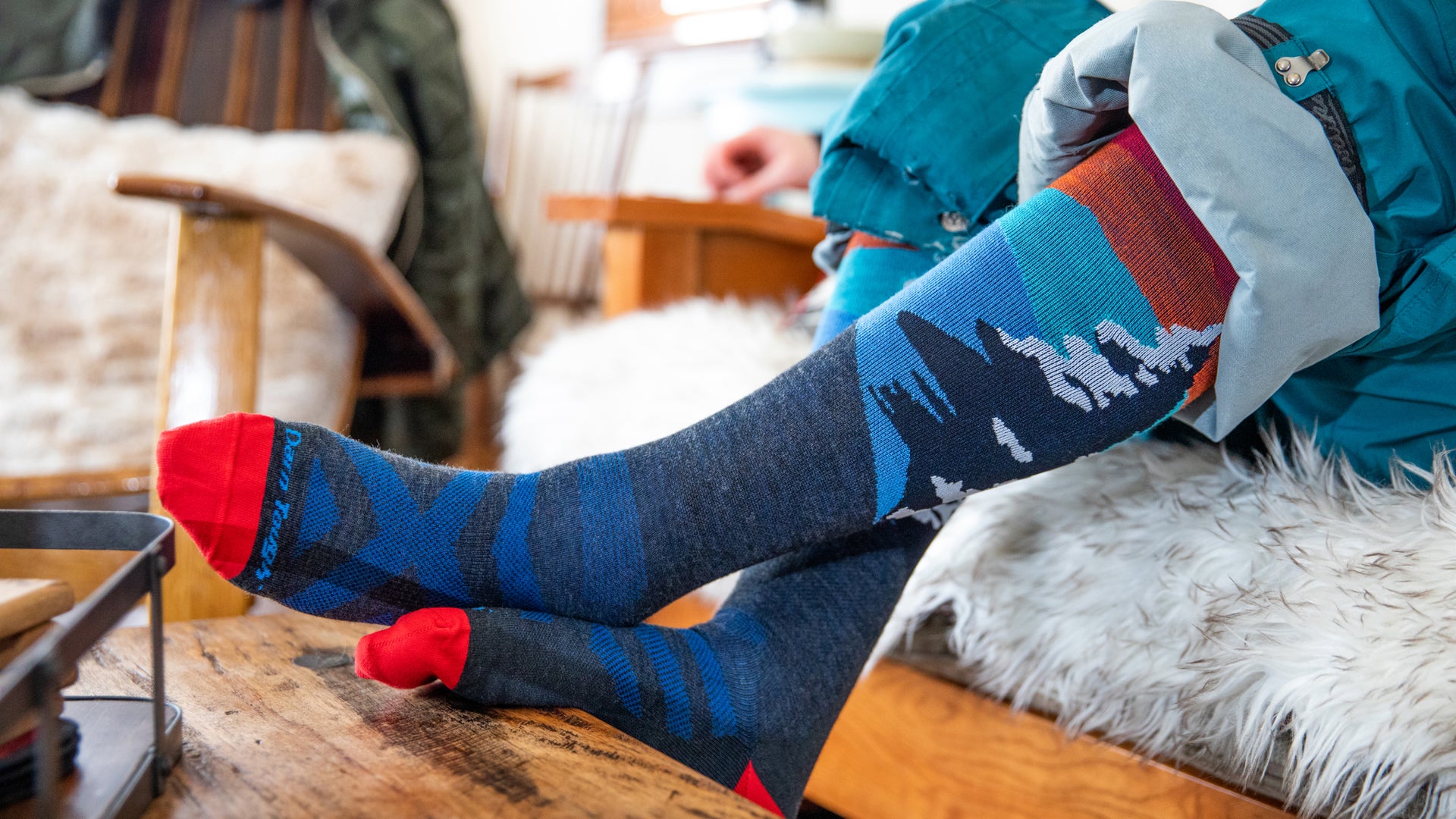 Men's Ski & Snowboard Socks
The Best Socks for Ski & Snowboard
From the land of cold winter — Merino Wool socks are the ultimate choice for skiing, snowboarding, or shoveling the mailbox out.
Explore Snow
Ending My Era of Stinky Snowboard Boots
Say goodbye to that pervasive fragrance wafting from baseboards, radiators, heat ducts, or wherever warm air meets a drying boot liner.
Read Blog
Jake Blauvelt on Developing the Backwoods Sock
Pro snowboarder Jake Blauvelt shares his experience developing socks with us, as well as his tips on foot care and sock choice.
Read Blog
Men's ski socks and snowboard socks built for nordic, alpine, and backcountry snow days to keep your toes warm and dry run after run… after run.
We knit our Merino Wool ski socks in three weights. For spring skiing, race days, and that foot-sock-boot connection, our ultralight ski socks star our finest yarns, more like a second skin than a sock. If you still want thin ski socks but a tad extra warmth, our lightweight socks strike the perfect balance; many include pro-level tech features, like the Backwoods' segmented padded shin, developed with pro snowboarder Jake Blauvelt. Midweight with cushion are our warmest snow socks, for days when the cold weather won't keep you off the powder.
Learn more about what makes these the best socks for skiing and snowboarding. Shop all Ski Socks.
FREQUENTLY ASKED QUESTIONS
The best men's ski socks are lightweight, durable, and made from moisture-wicking Merino Wool. Darn Tough Merino Wool ski socks are naturally odor-resistant, so you can wear them all weekend long without stinking. Plus, they're Guaranteed for Life, so you'll only ever need one pair.
Merino Wool socks are perfect for snowboarding. The soft touch of Lightweight Merino Wool yarn keeps your feet warm and dry all day. Plus, Merino Wool is naturally moisture-wicking and breathable. So, even if your feet get wet, your socks will help keep your feet dry and warm.
Ski socks vary in length depending on the type of skiing you're doing. For downhill and resort style skiing, Darn Tough makes Over-the-Calf ski socks that don't slip or bunch up. Nordic skiers might prefer a boot height sock that's shorter than your average ski sock but lighter and more versatile.
Darn Tough knits ski socks with padded cushion in the shins for support. Terry loop cushioning is added in the front of the leg for extra comfort and shin protection in ski boots. We offer various ski socks with padded cushion in the shins.
Ski socks are more than necessary – they're essential for any skier who likes warm, dry, and comfortable feet in winter. Darn Tough Merino Wool ski socks are strategically knit to protect your feet and regulate moisture in ski boots, helping you enjoy every run down the mountain.