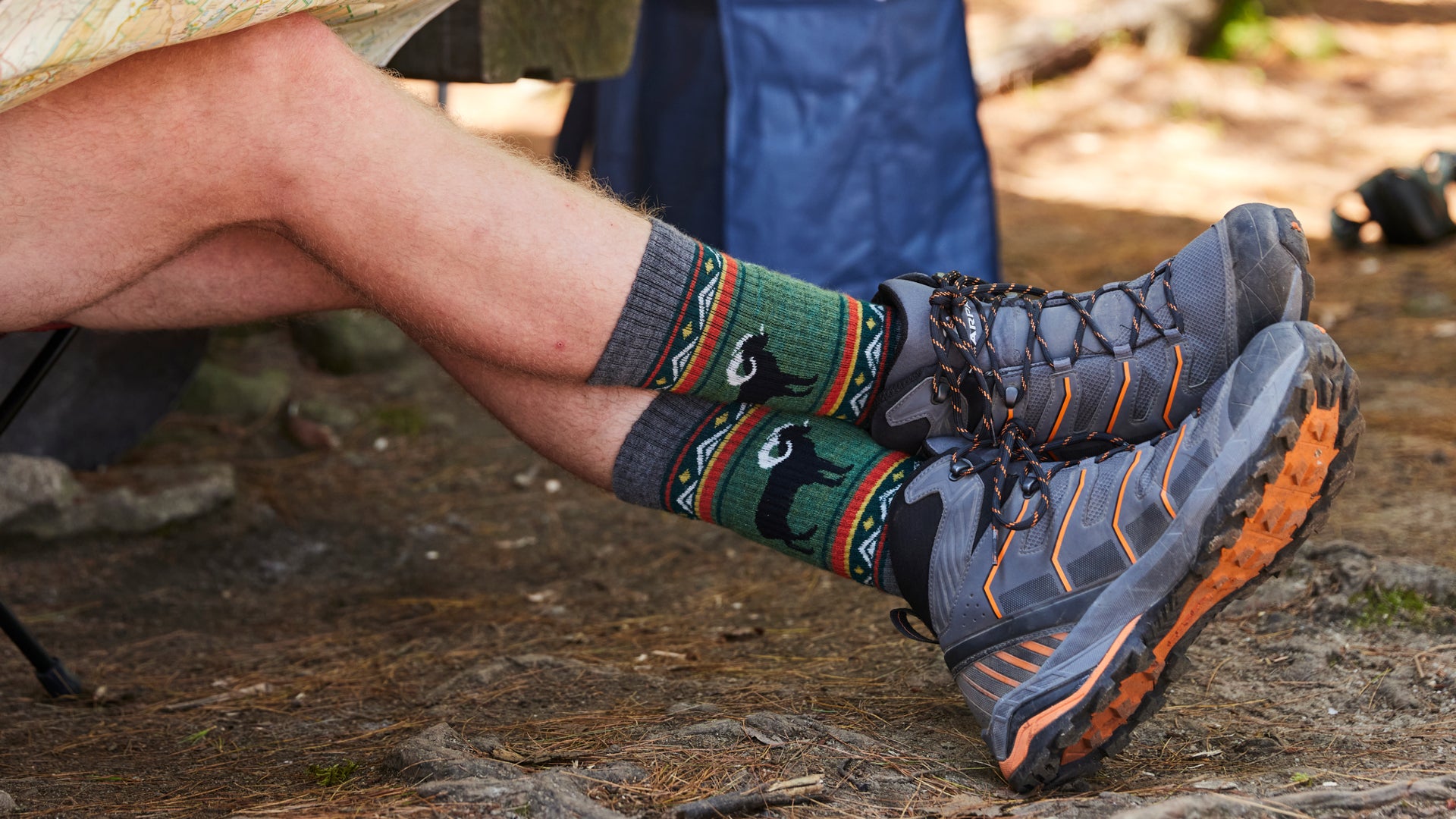 The Best Socks for Hiking & Backpacking
Thru-hikers have trusted these socks on the trail for years. Day trekkers and people who just like good socks for hiking can wear them too.
Explore Hike
Men's Hiking Socks: A Buyer's Guide
After consulting some experts and leaning heavily into the MANY rave customer reviews we've collected, we picked our best men's hiking socks.
Read Blog
Do I Need Sock Liners for Hiking?
An enduring question among hikers, we get into the pros and cons of liner socks to help you determine your best footwear system.
Read Blog
The original men's hiking socks with a lifetime guarantee. Thru hikers, trekkers, and backpackers trust their feet with our Merino Wool socks because we knit a durable sock that performs. 
Our first hike sock, the 1466 Hiker micro crew sock is a trail legend – some say they're the best hiking socks for men, featuring the perfect amount of light cushion and breathability at just the right sock height. We've carried that same durability into our entire line of lightweight, midweight, and heavyweight men's wool hiking socks, which now includes a range of heights from no-show to over-the-calf, for every hiker. Our hiking boot socks, like the 1403 Hiker, pair great with tall hiking boots or backpacking boots and come in cusion and full cushion options for extra warmth and comfort. If you prefer low cut hiking socks for hiking shoes or trail runners, we knit quarter crew and no show hike socks perfect for day hikes and warm weather hiking.
Learn more about what makes these the best socks for hiking. Shop our entire selection of hiking socks.
FREQUENTLY ASKED QUESTIONS
The best hiking socks are made of Merino Wool. Merino's natural moisture wicking and blister prevention abilities make it one of the most reliable materials to knit socks with. And when spun together with Nylon and Spandex, it creates the most durable, best fitting hiking sock you'll ever wear.
Hiking socks shouldn't be loose but instead fit your feet so well you forget you're wearing them. At Darn Tough, we guarantee our Merino Wool hiking socks to be the best fitting socks you'll ever wear. That means no slipping or bunching, resulting in a performance fit that feels like a second skin, helping reduce blisters.
Darn Tough hiking socks are Unconditionally Guaranteed for Life – if they're not the longest-lasting hiking sock you've ever owned, you can return them for another pair – meaning they last a lifetime. They're made from durable Merino Wool, nature's most befitting gift for active sock wearers.
Choose hiking socks based on your activity and weather conditions. You might opt for a lightweight, thinner sock for shorter hikes, trail running, or mountain biking in the summer. For more extreme hiking conditions, overland trekking, and cold weather, a heavyweight, thicker sock increases durability and warmth. Darn Tough knits both thick and thin hiking socks.
The short answer is, yes. At Darn Tough, our men's hiking socks can be worn by women. The difference therein lies with comfort and fit – men's socks are generally larger and sit higher on the leg than women's styles. But women with larger feet or longer legs might find they fit better.