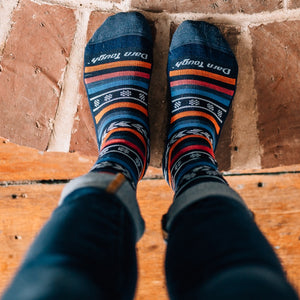 There's actually nothing casual about our 
approach to lifestyle socks.
Steps to a Better Lifestyle (Sock)
A. Lasting Fit
The comfort of our socks starts with their performance fit that doesn't slouch or droop.
B. Silky Merino
Our Lightweight Merino Wool is buttery smooth and our high density knit 
keeps it that way.
C. Naturally Perfect
Moisture wicking Merino will keep your feet dry, it also resists odors … no such thing as a walk of shame.
D. A-dorable
Yes, we have solid designs, and we have stripes too, but our design team can knit magic.
Life Choices
Solid Socks
Straight up all-business, or blocking for subtle style.
Shop Solids
Striped Socks
We think socks invented stripes. We've invented a few.
Shop Stripes
Nature & Animal Socks
Searching for animals socks is not unique, our designs however…
Shop Nature & Animals
Choose by Height
Hide Them
There are no shows, shorty ankle socks, and invisibles for flats and low-riding shoes and sneaks.
Shop No Shows
Show Out
Our crew sock height is the most popular and gives a little more canvas for designs.
Shop Crews
Designed for Life
The look on the dog's face says it all. It's not what fun, colorful socks our designers come up with, it's how they do it. They know knitting and the machines they work with are steps away. What looks gorgeous, is designed to knit even better. These wool socks feel and fit as good as they look, making them the best socks for everyday use.
Awesome socks! These socks are beautiful to look at, lovely to wear. There are no better socks than Darn Tough! — Bridget G.
Merino's Natural Life
It's not uncommon to be a little surprised by a lightweight sock knit with Merino Wool. The word wool often takes your mind to an Everest summit. But when you're the keynote speaker at the corporate summit you'll be thankful these dress socks keep your feet dry, warm, and yet cool. And since they are naturally odor-resistant they are the best socks for stinky feet. That summit thing just came to us. 
Had to be done.
Comfortable everyday sock! Even in warm temps, my feet are not hot or sweaty. Great for active wear or around the house. — Jamie O.
Unconditionally Guaranteed for Life
The long-lasting nature of our socks is two-fold. First and foremost, our durability speaks to how long it will take you to wear through one of these socks or, blow a hole, if you need our lifetime warranty. That usually gets measured in years. But the quality you begin to discover is how it can be also measured in days. The sock is durable in a traditional sense, but so is its fit, and so is its comfort. Meaning you can wear these a few days in a row, or at least rotate for a bit before the washing machine has its chance to lose them.
These feel like the best made socks I've ever purchased. I'm planning on replacing all my socks with Darn Tough. — Blake K.
It's a Comfortable Life
Proper, expert knitting, and using the best Merino Wool, Nylon, and Lycra® we can find. When you commit to using the best goods and techniques, you can knit a fabulous sock. That's what got us here, and we aim to stick around. This is why your pair of Darn Tough Vermont socks is guaranteed to be comfortable. That's the first word we use when saying we have the most "comfortable, durable, best fitting sock." Doing something the best you can is honest work. And honest work is comfortable living.
My new favorite socks. The perfect weight for almost everything, really soft and just the right amount of stretch. Oh, and they are adorable. — Heidi H.
Cushion Options
Cushion Socks
For the ultimate cozy feel with some softness underfoot, but not sloppy.
Shop Cushion
No Cushion Socks
For the lightweight, thin, sleek fit you've learned you must have.
Shop No Cushion