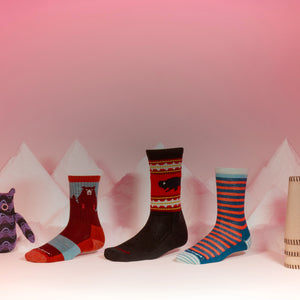 Sock Gift Ideas for Everyone
Socks as holiday gifts are a universal truth. Everyone wants socks for Christmas, so we put our best sock gift ideas in this gift guide to help you find Merino Wool gifts for everyone on your list.
Gifts That Give
By shopping our socks that give back, you can make an impact this holiday season. Support the Vermont Food Bank by shopping our Knit to Give Socks. Or shop our Triple Crown Collection to support America's National Scenic Trails.
Pick the Perfect Presents
A short, step-by-step guide to matching the ideal pair for everyone on your list.
★★★★★

I purchased these socks for a gift. You can tell the quality and care put into these socks. The recipient of my gift says they are her favorite pair of socks! She will be purchasing more for herself.

Nancy L.
★★★★★

I got my first pair several years ago as a gift. Once I put them on I couldn't take them off, since I loved them so much.

Nathan S.
★★★★★

Can't go one holiday without giving one pair as a gift!! A gift for life! Just love them, and I will buy again and again!!

Trisha N.
★★★★★

I got a pair of these socks as a gift. Love them so much I only wear these socks now. 10 pairs for casual, 8 pairs for work. I work in telecommunications, on my feet 75% of the day. Best socks I've ever owned.

Nick M.
★★★★★

Bought these as a gift for my mom, she loves them. They are by far our favorite socks in the world and we both own several pairs.

Phoebe G.
★★★★★

I love all your socks. Best thing I ever did was try one pair. Now my drawer is full of 20+ pair. They are my go to gift for people who haven't experienced your wonderful products. Socks for life.

Jared M.
★★★★★

Great gift for an avid hiker. I purchased these socks for my mom and throughout our hike she said, "My feet have NEVER felt this good… WOW, I don't think I can wear any other types of socks now…"

Megan G.
★★★★★

I received a pair of Darn Tough socks as a gift, and loved them so much that I had to get more. Lovely in a whimsical sort of way, and incredibly comfortable.

Beth B.
★★★★★

Wonderful gift — My husband needed new socks so I got him some to try. He loved them and they help him with his job where he's on his feet all day. He noticed the difference right away.

Danielle R.
Socks We Gift
The Eagle Has Landed
Casey fancies his claws like he does his piercings… sharp. He thinks his son will, too.
Shop VanGrizzle
Grin and Bear It
Dixie doesn't have to – she loves where she works (and buying socks for her daughter).
Shop Bear Town
Duck and Cover
Rachel uses them to cover her toes, and because they amoose her friends and family.
Shop Duck Moose