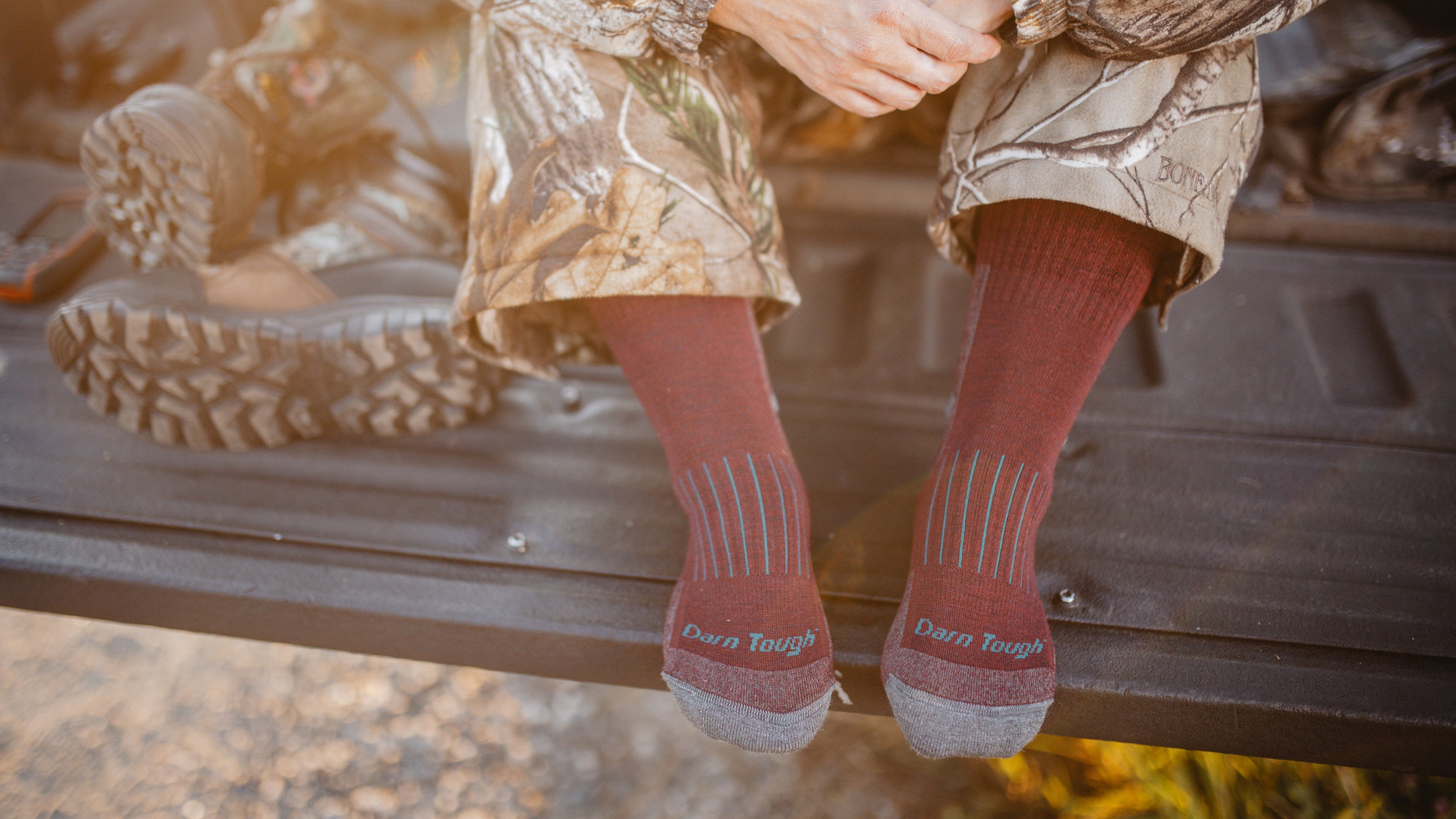 Women's hunting socks with cushion and breathability for ultimate comfort. These Merino Wool socks for hunting are warm and guaranteed for life.
Naturally thermoregulating, Merino Wool makes the best wool hunting socks because, while it keeps your feet warm, it also keeps them from being too warm. And let's not forget that Merino wicks moisture, which combined with our performance fit helps prevent blisters. Add terry loop cushioning for extra comfort and breathable mesh vents on the forefoot, and you end up with the best socks for hunting boots.
Learn more about what makes these the best socks for hunting. Shop our entire selection of Hunting Socks.
FREQUENTLY ASKED QUESTIONS
Hunters wear Merino Wool because it's warm, durable, and naturally regulates body temperature. Whether you're in the stand or out stalking miles, Darn Tough Hunting socks are the best choice for all-day comfort and performance.
If you're on your feet hunting with a heavy backpack, Merino Wool socks ensure your feet won't tag out before you do. Merino is revered for its long-lasting comfort and durability and performs better under pressure. So, the more weight you're rucking around, the better our Hunting socks will do.
Merino Wool hunting socks are the best decision you can make outside of proper scouting. Unlike traditional wool, Merino fibers are finer and won't itch or irritate your skin. It also dries quicker and naturally wicks vapor off your skin to keep your feet healthy in hunting boots.
Darn Tough Merino Wool socks keep moisture off your feet, breathe well, and insulate for warmth, making them ideal for stalking. Knit from high-quality Merino Wool, our Hunting socks never lose their fit and hold their position while you maneuver into yours.
Wearing Merino Wool socks is one of the best ways to keep your feet warm while fishing. Darn Tough Hunting socks are naturally moisture-wicking and thermoregulating, meaning your feet will stay warm even if they get wet. Gaiters also help, but not unless you've got the right pair of socks.