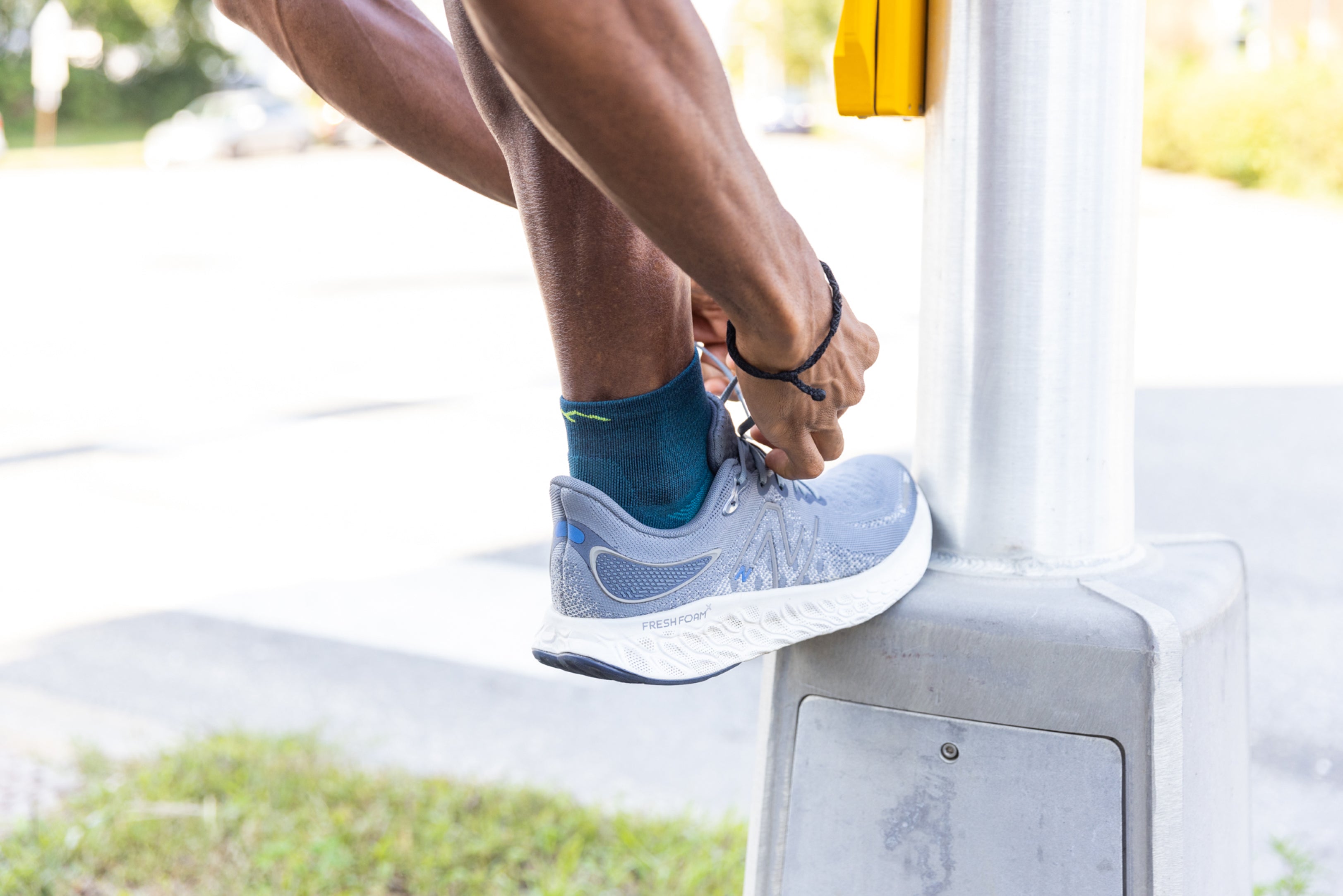 The Best Socks for Runners
Durable socks for runners, knit with Merino Wool and engineered to stay dry, comfortable, and fit any run you have in mind.
Explore Run
Running in Merino Wool Socks in Summer Is the Best
Wool? For summer?! We know that may sound counterintuitive, bringing to mind some very, very sweaty images. But hear us out.
Read Blog
Choosing the Right Running Socks
World-renowned runner Josh Ferenc talks why running socks matter and how to choose the right pair.
Read Blog
The best men's running socks to wick moisture and never slip, loved by marathoners, joggers, and trail runners.
Lightweight Merino Wool running socks for men made in the USA from the highest quality materials, in all the heights runners love. From our best-selling No Show socks to the ultralight Stride Micro Crew length, these wool socks for running keep up with you mile after mile, with thought-out features like arch support, breathable performance mesh, and a range of cushioned and non-cushioned options. Plus, Merino Wool makes them anti-blister and anti-odor. Whether you're looking for ultra-running socks or jogging socks, these men's run socks have you (specifically your feet) covered.
Learn more about what makes these the best socks for running. Shop our entire selection of Running Socks.
FREQUENTLY ASKED QUESTIONS
Tight-fitting socks can help ease muscle aches and eradicate foot pain when running. Even the slightest form of compression has immense benefits for runners who suffer from inflammation. So, depending on what distances you plan on racing this year, it might be good to find a tight-fitting sock.
The best socks for running are lightweight, breathable, and moisture-wicking. Darn Tough Running socks are made from Merino Wool and naturally prevent blisters so you can run farther for longer. Our performance fit ensures your socks never slip either, giving you confidence with every stride.
Darn Tough Running socks are strategically knit with durable Merino fibers. The strength of Merino Wool gives our socks added resilience and protects against ripping and tearing. Plus, what we knit is Unconditionally Guaranteed for Life, so if they do get a hole, we'll replace them free of charge.
The thicker your socks, the more cushion and rebound you'll have. The thinner they are, the more breathable and form-fitting they'll be. At Darn Tough, we knit both. But it's mostly up to you if you want extra protection with thicker socks or a next-to-skin sensation with thinner socks.
Shorter socks are less restrictive and keep your feet cool if you run hot. Longer socks are also breathable but offer greater ankle protection, adding extra cushioning around the Achilles. Darn Tough makes the best socks for each height, but it's up to you, the runner, to decide which is best.