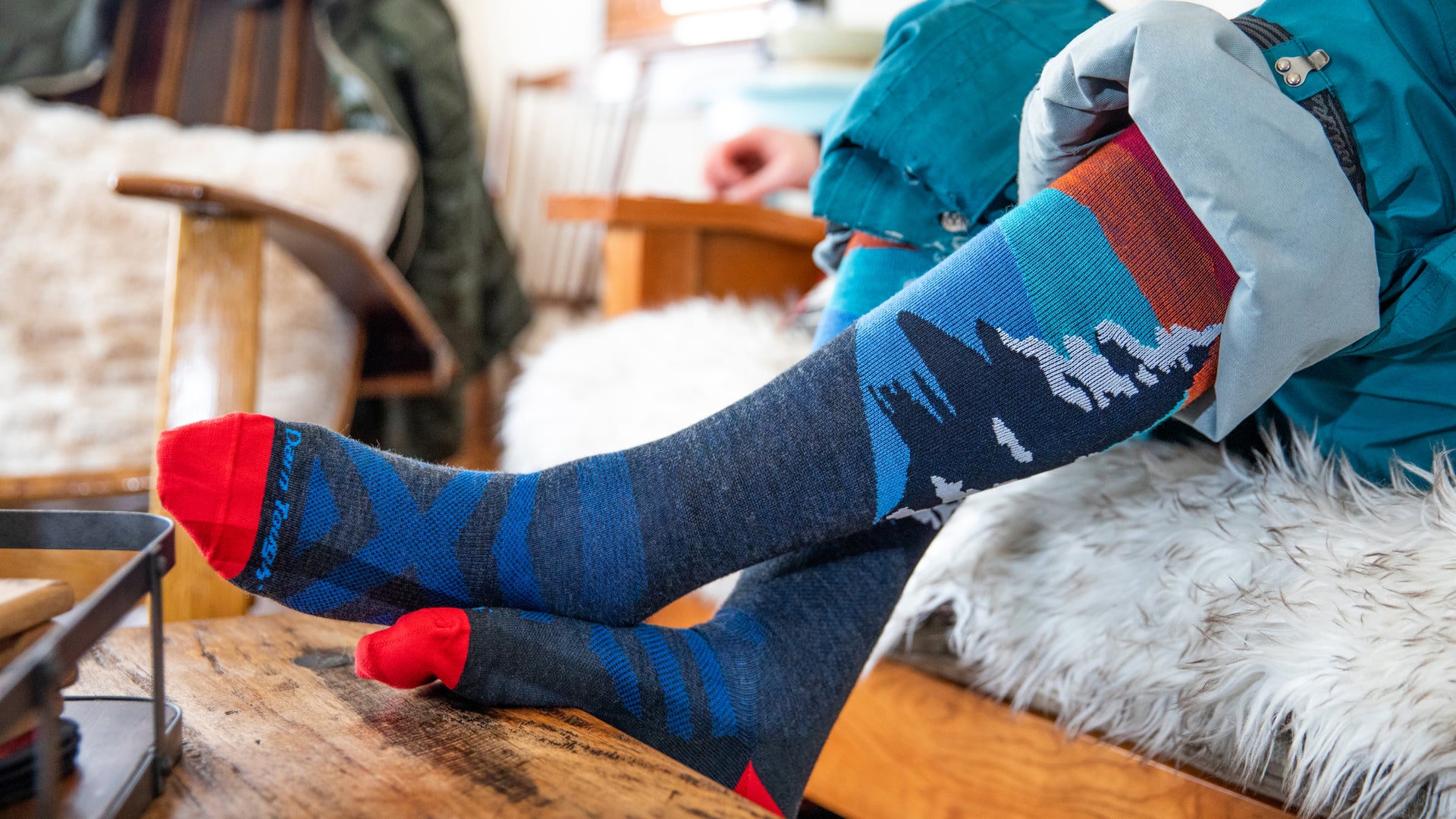 The Best Socks for Ski & Snowboard
From the land of cold winter — Merino Wool socks are the ultimate choice for skiing, snowboarding, or shoveling the mailbox out.
Explore Snow
How to Choose Ski & Snowboard Socks
We dive into how to choose the right socks for your winter activities, for all day comfort on the mountain no matter the conditions.
Read Blog
Foot-Care Tips from a Vermont Ski Patroller
After 43 winters as a ski patroller, I've got some opinions about safety, socks, and how to take care of feet up on the mountain.
Read Blog
The best snow socks for skiing, snowboarding, and snowshoeing. Knit from warm, moisture-wicking Merino Wool, these ski socks provide all-day comfort in your boots.
For alpine skiers and riders, our over the calf socks (aka knee high) layer with your boots and thermals to keep your entire lower leg just the right temperature, run after run. We knit ultralight, lightweight, or midweight socks with a variety of cushion options so you can find your perfect wool socks for winter sports, whether your foot (or the weather) runs warm, cold, or anywhere in between. Whatever weight you choose, Merino Wool thermal socks are the best all winter long. 
If cross country skiing is more your style, the unique height of our nordic ski socks is designed specifically for nordic boots – though they'll also perform for snowshoers and ice skaters.
Learn more about what makes these the best socks for skiing and snowboarding. Shop our selection of Men's Ski Socks, Women's Ski Socks, and Kids' Ski Socks, as well as other warm winter socks for everything from sledding parties to shoveling out the mailbox.
FREQUENTLY ASKED QUESTIONS
Ski and snowboard socks are similar, but not always the same. At Darn Tough, we sell every style featured in our 'Snow' category to both skiers and snowboarders. We fit everything in both ski and snowboard boots and send to both types of athletes to make sure they work for both activities.
Ski socks are designed to wear with ski boots. Darn Tough ski socks are knit with moisture-wicking Merino Wool, and some have padded terry loop cushioning in the shin for added comfort. Reinforced cushion around the heel keeps your feet comfortable in ski boots and stays durable season after season.
Merino Wool socks are the best for skiing because they naturally wick moisture and regulate heat. Merino fibers are lightweight, durable, and stay dry even when they're wet. So, even if your feet sweat or you get snow in your boots, your socks will actively fight to keep your feet warm and dry.
Your ski socks should go under thermals and directly against your skin. Darn Tough ski socks perform best when they're fit snuggly around your leg and calf, not over other layers of clothing. With socks worn over thermals, you won't feel the lightweight fibers of Merino against your skin.
Consider wearing Lightweight Merino Wool ski socks that won't bunch or be too tight in your cross-country boots. Darn Tough knits lightweight ski socks in Nordic Boot and Over-the-Calf heights for cross-country skiers who want less surface area (boot height) or full calf coverage (over-the-calf).