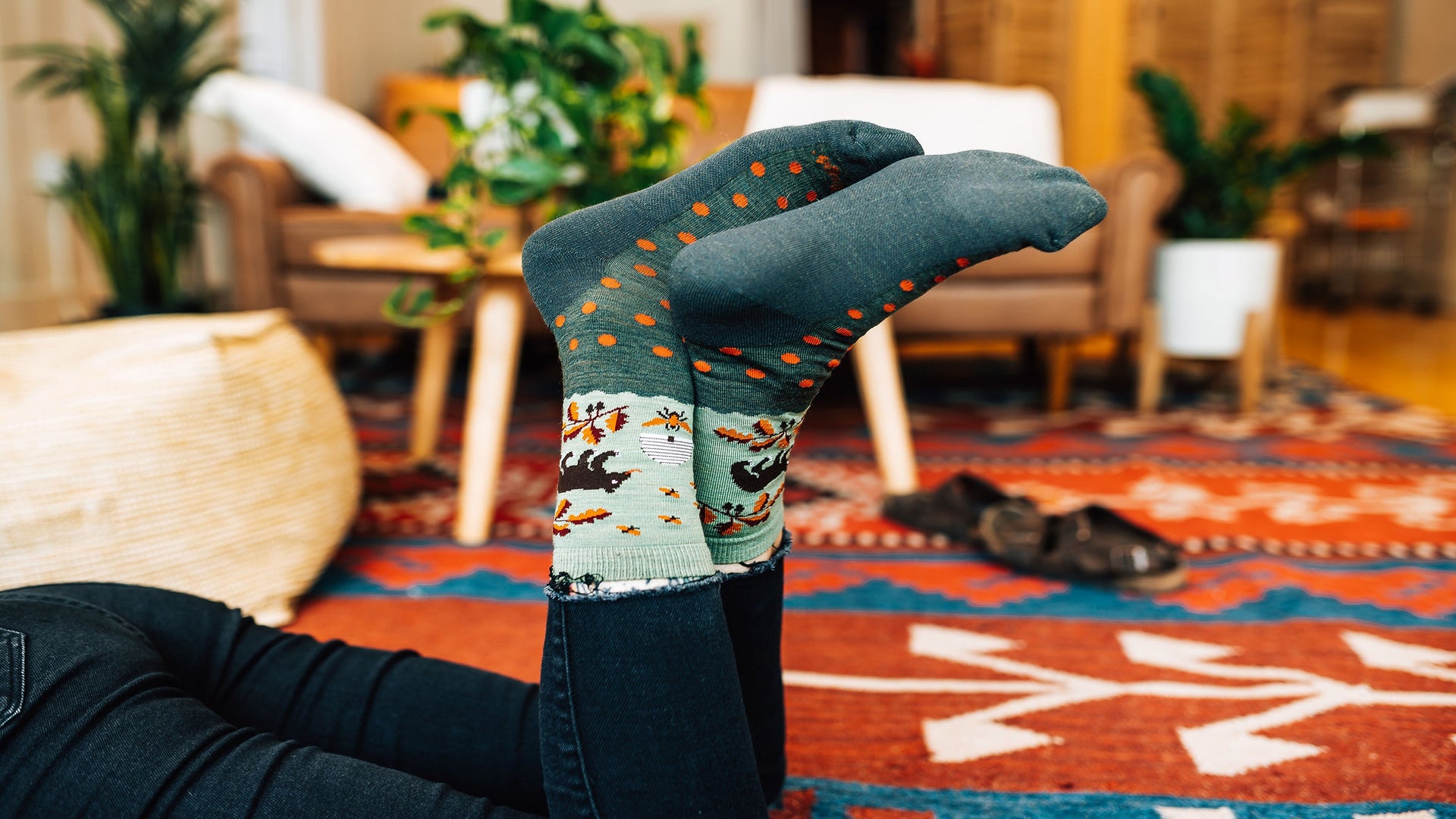 Women's Lifestyle Socks — Dress & Casual
Women's lifestyle socks for every occasion, from fun and funky casual socks to tasteful and stylish dress socks.
You might be surprised to learn that the same features that make these comfy at-home socks also make these the best dress socks for women. We knit with lightweight Merino Wool for a thin sock that doesn't skimp on comfort, durability, or performance benefits, including breathability, moisture control, and temperature regulation.
And we certainly don't skimp on unique designs either, with everything from solid black and fat stripes to whimsical florals and cute animal socks. Our shorty and no show sock heights pair well with booties and flats, while crew socks go well with…everything. Honestly everything. Pro tip: choose lifestyle with cushion to treat your feet to an extra plush experience.
Learn more about what makes these the best wool socks for everyday wear. Shop our entire selection of Lifestyle Socks.
FREQUENTLY ASKED QUESTIONS
The best women's socks for dress pants are made from Merino Wool. Merino is naturally moisture-wicking, odor-resistant, and more comfortable than other wool socks. Plus, the way we knit them you can always find the perfect pair to match your ensemble.
If you fancy skinny jeans, we recommend wearing a pair of skinny socks to complete the look. Darn Tough Lightweight socks for women offer some cushion (and some without) for a next-to-skin feel that's stays close to your foot but breathable for wearing all day in skinny jeans.
If you're wearing flats, you'll want a sock that's sleek and fits snug around your foot without slouching. At Darn Tough, our No Show Invisibles are virtually undetectable in flats while still providing the patented comfort, durability, and fit that Darn Tough is known for.
Darn Tough knits the best patterned socks for casual wearers, whether you're looking for a pair to use at the office or your next wedding. You can wear our patterned socks with almost every outfit, as we knit styles that are less flashy and more discreet.
Generic dress socks are typically knit using low-quality yarns that don't breathe well and tend to soak up lingering bacteria, hence the stink. But not all dress socks are alike. Darn Tough knits lifestyle socks that fit every formal dress code from Merino Wool, which is naturally odor resistant.