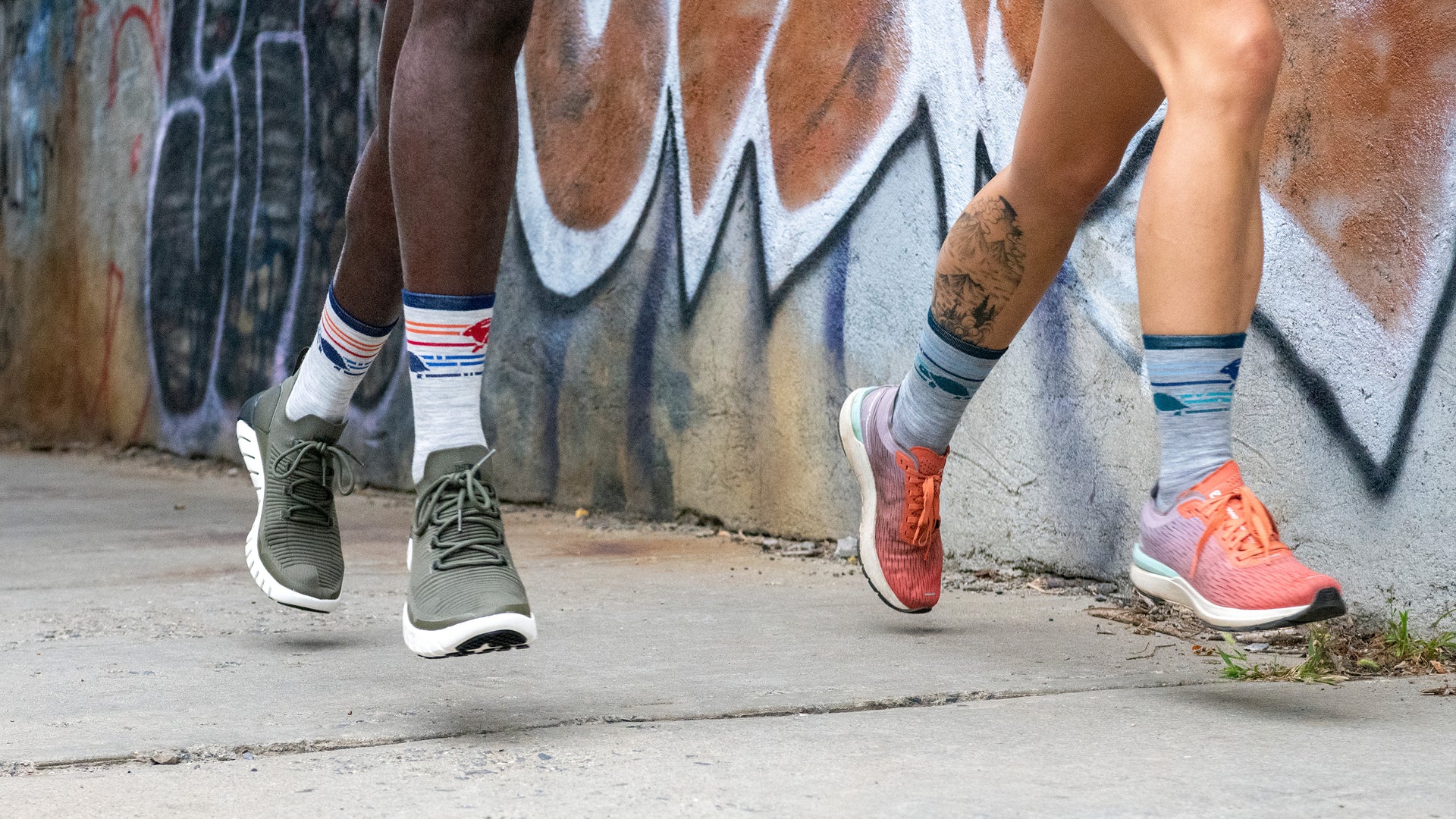 The Best Socks for Runners
Durable socks for runners, knit with Merino Wool and engineered to stay dry, comfortable, and fit any run you have in mind.
Explore Run
Choosing the Right Running Socks
World-renowned runner Josh Ferenc talks why running socks matter and how to choose the right pair.
Read Blog
7 Tips on How to Start Running
So, you want to learn how to run. We've put together some running tips for beginners, to help you start off on the right foot (ha, sorry).
Read Blog
Lightweight running socks that help prevent blisters, wick moisture, and never slip — ideal for all runners, from joggers to marathoners, and everyone in between. 
If you've never tried running in wool socks, here's a hint: Merino Wool running socks are the best running socks to prevent blisters. They wick sweat, resist odors, and regulate foot temperature. Knit from ultralight Merino, our thin running socks still hold up mile after mile with unrivaled durability.
Choose your run sock based on your cushion preference and run style. For example, road runners may prefer no show running socks and no cushion options for that low profile, close-to-the-pavement feel. Trail runners tend to gravitate to micro crew running socks for protection from debris and scrapes. If you're running long distances, our cushion socks for running feature an ultralight layer of padding for impact protection and rebound.
Learn more about what makes these the best socks for running. Shop our selection of Men's Running Socks and Women's Running Socks.
FREQUENTLY ASKED QUESTIONS
Merino Wool socks are the best at preventing blisters. Darn Tough knits a variety of ultra-lightweight socks that aid in blister prevention. They provide cushion underfoot and are knit to fit the shape of your foot. For a taller sock with more style, check out our signature Micro Crews.
Yes. Runners agree that good socks are just as important as good shoes. It's important to keep your feet dry and protected – Darn Tough running socks see to that. They insulate your feet even when they're wet and fight back against blisters with improved knitting around your heels and arches.
Running socks are designed to help you perform better. They're important because they provide your feet with an extra layer of protection between your shoes and the Earth. Plus, they're moisture-wicking, more comfortable, and knit for increased durability.
Running socks last between three to six months. Depending on how often you run, that time may vary. It comes down to the fabric and construction. And since Darn Tough Merino Wool running socks are guaranteed for life, yours should technically last forever – if they ever rip, we'll replace them.
Darn Tough running socks offer a performance fit that you won't ever feel bunch or break your stride. If you're a trail runner, you need socks like this. The harder you push, the more you'll benefit from something ultra-lightweight that breathes well and provides cushion up through the Achilles.