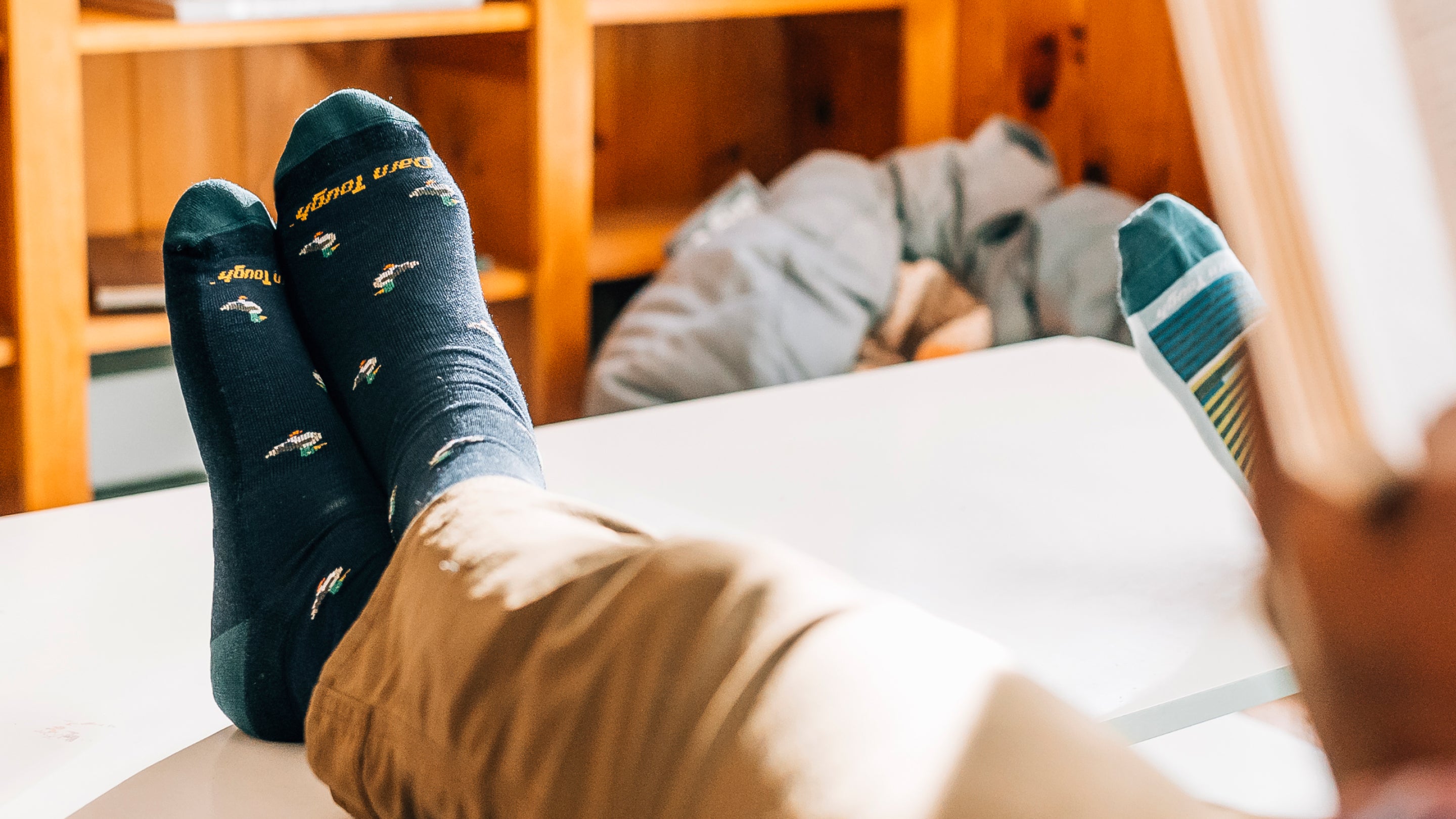 Men's Lifestyle Socks — Dress & Casual
Men's lifestyle socks that don't bunch, don't slip, and don't disappoint. Knit from Merino Wool, these thin, lightweight socks are stylish enough to be business socks and comfortable enough to be everyday socks. Did we mention Merino Wool socks are anti-odor, moisture wicking, and breathable? AKA you may be ready to rip the tie off after 5, but we're willing to bet these socks stay on. Those shoes you kicked off may even stink less.
Whether you're looking for formal socks or casual crew socks for men, our lifestyle socks deliver top-notch performance and durability, backed by our lifetime guarantee. The only question you need to ask yourself is, are you looking for fun, or perhaps funky, designs, or maybe good old by-the-book wool dress socks? Putting in a good word our rooster socks, which let you strut your stuff, tastefully. Our casual and dress socks for men are available in no show, mid-calf, and classic crew heights.
Learn more about what makes these the best wool socks for everyday wear. Shop our selection of Lifestyle Socks.
FREQUENTLY ASKED QUESTIONS
Dress socks are worn with formal shoes and dress clothes, most often for men. They range in color options; dark and solid colors like black, blue, or brown were once best practice, but now dress socks can add flavor to your ensemble with bright colors and decorative patterns.
Darn Tough Vermont knits the best Lifestyle socks for men, including dress and casual socks. Our socks are made from Merino Wool and come in a range of styles and heights. From fun and colorful to more formal, Darn Tough dress socks are made to pair with every outfit and occasion.
Your dress socks should match your pants, not your shoes. At Darn Tough, we knit an assortment of monotone and colorful dress socks – including black, gray, blue, orange, and ones with stripes – helping you mix and match depending on what you're wearing and when.
Darn Tough Lifestyle socks – or casual socks – come available in three different heights for men: No Show Hidden (virtually undetectable in dress shoes), Crew (offering a classic look for formal attire), and Mid-Calf (adding extra comfort for support higher up the leg).
The best socks for office work feel good on your feet and look good too. Dressing up for work can be boring, but pairing your outfit with a spunky pair of Darn Tough socks is how you can show some personality amidst the nebulous sea of ties and dress pants. Plus, you can wear them for multiple days.