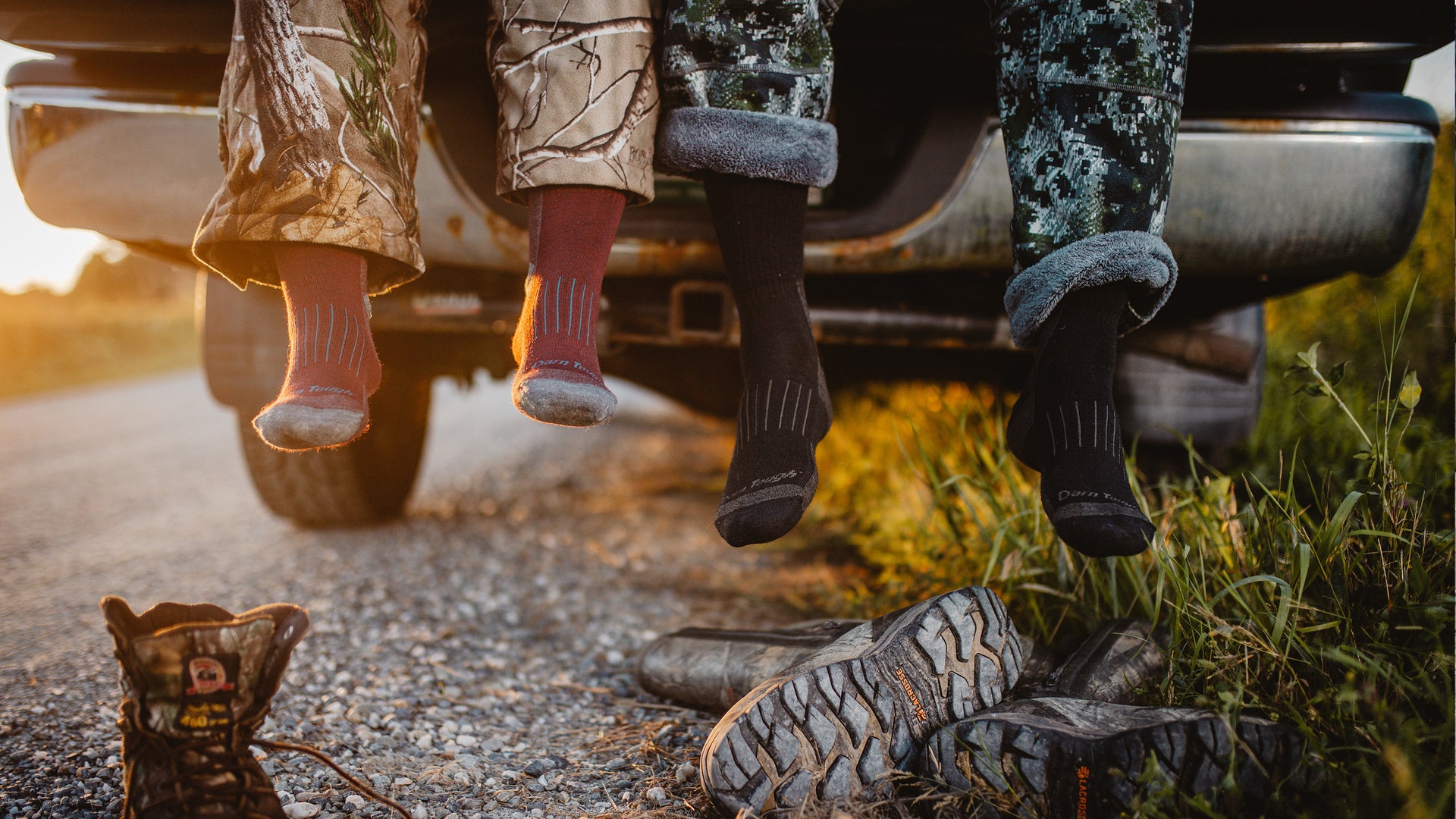 The best wool hunting socks to keep feet warm and dry in hunt boots, providing cushion, breathability, and comfort.
Knit with Merino Wool, Darn Tough hunting socks are moisture wicking and thermoregulating to keep your feet dry and insulated in all conditions. Our hunter socks come in three weights: Lightweight socks for warm climates and turkey season, a midweight option that performs year-round in any season, and heavyweight socks, our warmest socks for hunting in cold weather.
To choose the right socks for your hunting boots, consider your footwear. Our Hunting Boot socks are the ideal match for most standard hunt boots. For tall boots, the over-the-calf hunt socks provide extra coverage, all the way up to your knee.
Learn more about what makes these the best socks for hunting. Shop our selection of Men's Hunting Socks and Women's Hunting Socks.
FREQUENTLY ASKED QUESTIONS
The best socks for hunting are durable, insulated, and moisture-wicking. Hunting boot socks made from Merino Wool offer extra protection against the cold and are super comfortable for long days in the stand. Plus, they're naturally odor resistant.
Wear a heavyweight pair of Merino Wool socks. Darn Tough makes the best heavyweight socks for hunting that help keep your feet warm with terry loop cushioning underfoot and in the leg. Our hunter's socks come in lightweight and midweight styles, too, offering less bulk but the same superior warmth.
The best cold weather hunting socks are knit using Merino Wool. Darn Tough hunting socks utilize Merino Wool, strategically adding in Nylon and Lycra, for added strength and durability. This combination of materials actively fights the cold and helps regulate body temperature.
You don't need to layer socks if you wear Darn Tough hunting socks. They're made from Merino Wool so they're naturally moisture-wicking, durable, and thermoregulating. Thick terry loop cushioning underfoot protects your soles and Merino's natural ability to breathe prevents overheating.
One pair of insulated, heavyweight Merino Wool hunting socks should do the trick. But it's always a good idea to pack an extra pair of socks for your hunting boots in case your primary pair gets soaked. That's why we recommend carrying two pairs of Darn Tough hunting socks for every outing.