Filter Reviews
Size
Fit
Weight
Wool
Colors
Pattern
Warmth
Socks
Weather
Quality
Design
Feet
...
Feel
Style
Box
Warranty
Graphics
Crew
5 star rating

4 star rating

3 star rating

2 star rating

1 star rating
Michelle B.
5 star rating
Folktale Crew Light socks
Review by Michelle B. on 21 Jan 2020
review stating Folktale Crew Light socks
Thanks for the wonderful socks and I love the box and graphics of the box they came in. Great product.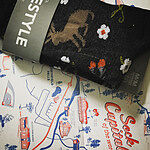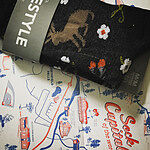 Comfortable
Review by C H. on 6 Jul 2020
review stating Comfortable
Best socks ever
Stephanie H.
5 star rating
So cute and fun to
Review by Stephanie H. on 22 Jun 2020
review stating So cute and fun to
So cute and fun to wear
Love these socks!
Review by Amy M. on 18 Jun 2020
review stating Love these socks!
These socks are so great! Besides the fact that they are so darn cute I love that my feet stay dry and comfortable all day wearing them. They are the most durable brand of socks I've ever worn. The fun patterns keep me smiling. Who wouldn't love to put on fun socks every day?!!
Best socks ever
Review by Shawna Y. on 14 Jun 2020
review stating Best socks ever
Comfy and cute
Q: Since I bought some Darn Tough socks online, I now get very tempting ads in my e-mail. But how can I buy a sock when critical information is missing in these ads, such as, 1) are they micro or full height, and 2) how much cushioning? I'm not buying based only on "happy words."
A: Hi Margaret,
Thank you so much for reaching out and sharing your stoke/DTV love! We are so happy to hear you're on board with us 😀 While our ads do not go into great detail about our socks, they all have links to our website where the information is available. Our Customer service team is also always happy to assist you in any way we can with your Darn Tough questions.
Warmly,
DTV Customer Support Team
support@darntough.com
Toll-Free
1-877-327-6883
Q: I am looking for socks that don't cut off circulation, or leave a red mark on my calf after I've worn them for a few hours.
A: All our socks are designed with a snug, performance fit to keep them in place as you go about your day. Since everyone's size and build are unique we can't say for sure whether or not you will find this model to be too tight for you but do offer free returns and exchanges just in case!