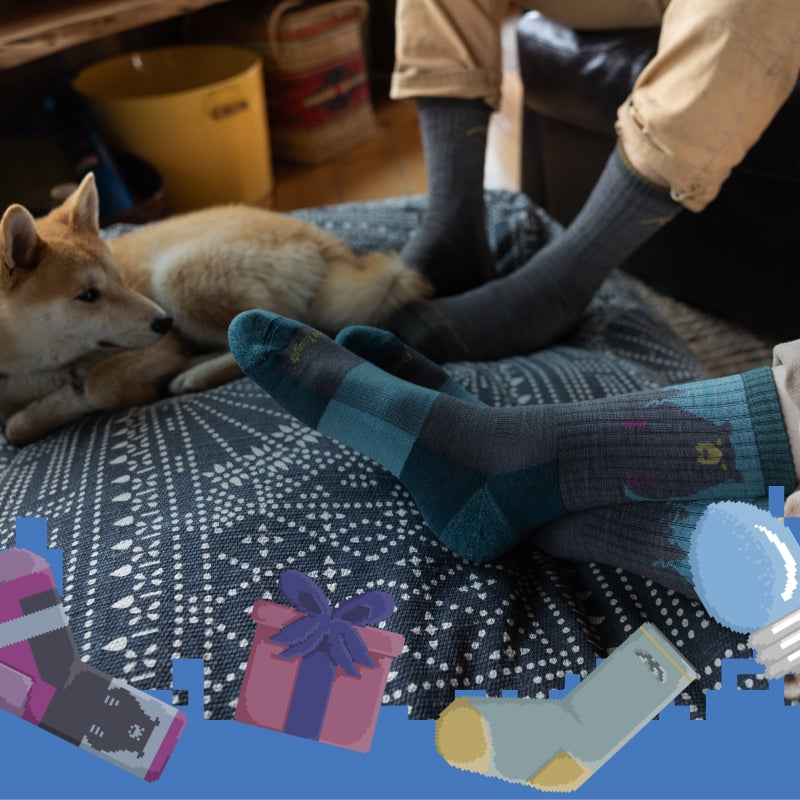 Sock Gift Ideas for Everyone
Socks as holiday gifts are a universal truth. People don't want socks – they need them. So to help, we put our best sock gift ideas together to help you find Merino Wool gifts for everyone on your list.
Gifts Guaranteed for Life
Holiday Socks
All new holiday styles, with the same Comfort, Durability, Fit and Lifetime Guarantee, make these pairs perfect for gifting.
Giving Gifts
By shopping our socks that give back, you can make an impact this holiday season. Support the Vermont Food Bank by shopping our Knit to Give Socks. Or shop our Triple Crown Collection to support America's National Scenic Trails.
Pick the Perfect Presents
A short, step-by-step guide to finding the ideal pair for everyone on your list.
Guaranteed for Life
If your socks ever rip or tear, we'll replace them for free.
Holiday Returns
Free within 120 days for those who were gifted socks.
Payment Methods
We accept Credit, Debit, Gift Cards, Shop Pay, Apple Pay, and Catch.
Shipping Cutoffs
Order by Dec. 17th for the best chance they arrive before Christmas.
★★★★★

I purchased these socks for a gift. You can tell the quality and care put into these socks. The recipient of my gift says they are her favorite pair of socks! She will be purchasing more for herself.

Nancy L.
★★★★★

I got my first pair several years ago as a gift. Once I put them on I couldn't take them off, since I loved them so much.

Nathan S.
★★★★★

Can't go one holiday without giving one pair as a gift!! A gift for life! Just love them, and I will buy again and again!!

Trisha N.
★★★★★

I got a pair of these socks as a gift. Love them so much I only wear these socks now. 10 pairs for casual, 8 pairs for work. I work in telecommunications, on my feet 75% of the day. Best socks I've ever owned.

Nick M.
★★★★★

Bought these as a gift for my mom, she loves them. They are by far our favorite socks in the world and we both own several pairs.

Phoebe G.
★★★★★

I love all your socks. Best thing I ever did was try one pair. Now my drawer is full of 20+ pair. They are my go to gift for people who haven't experienced your wonderful products. Socks for life.

Jared M.
★★★★★

Great gift for an avid hiker. I purchased these socks for my mom and throughout our hike she said, "My feet have NEVER felt this good… WOW, I don't think I can wear any other types of socks now…"

Megan G.
★★★★★

I received a pair of Darn Tough socks as a gift, and loved them so much that I had to get more. Lovely in a whimsical sort of way, and incredibly comfortable.

Beth B.
★★★★★

Wonderful gift — My husband needed new socks so I got him some to try. He loved them and they help him with his job where he's on his feet all day. He noticed the difference right away.

Danielle R.
Socks We Gift
Joan D.
A 15-year veteran, Joan knows the secret to gifting the perfect pair.
Shop Fastpack
Rob M.
You won't find any dirt on this guy, or the sock he's gifting this year.
Shop Wild Life
Liz F.
Fixin' to surprise that special someone? Liz knows just the sock.
Shop Vangrizzle