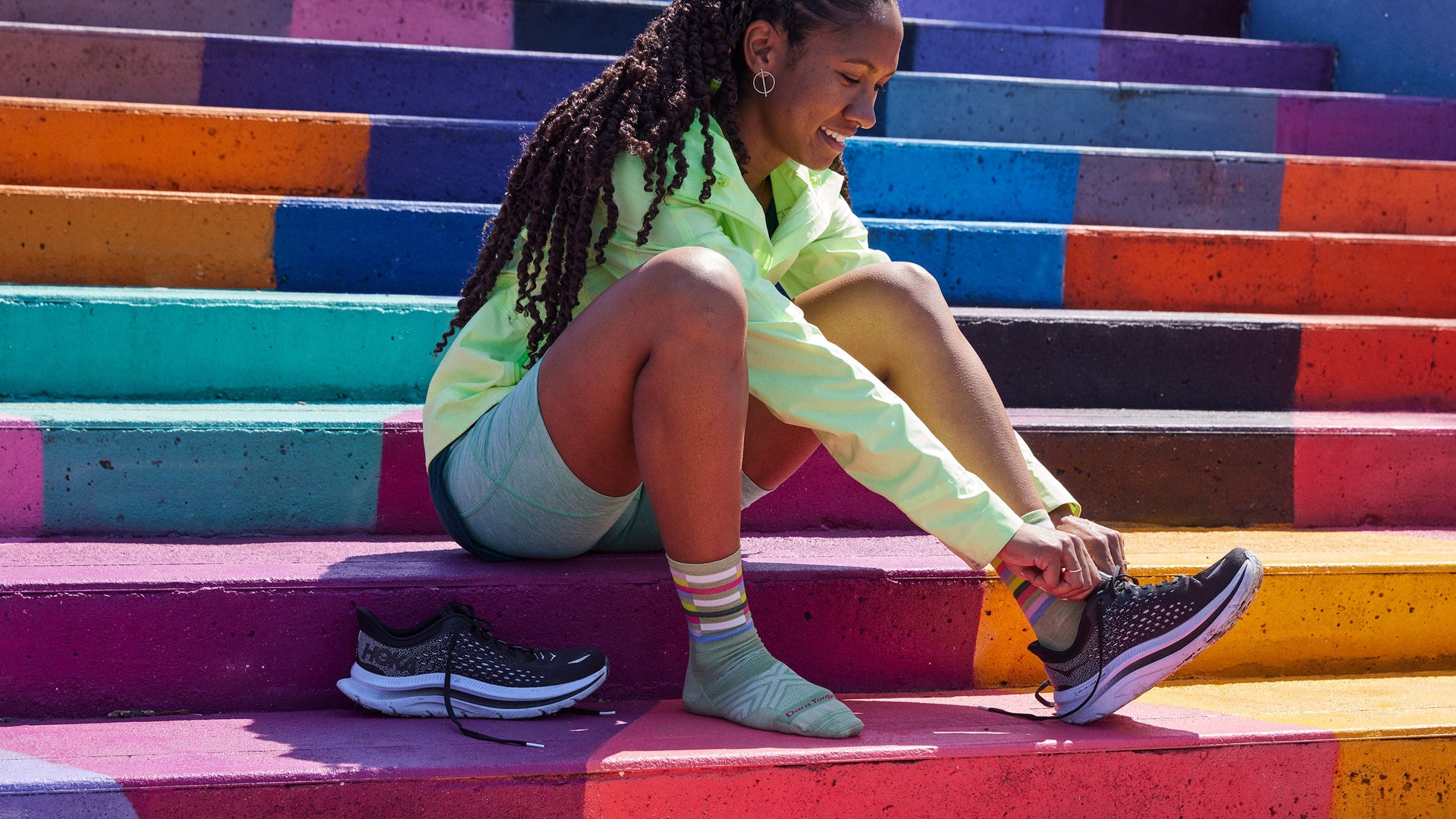 Women's running socks that wick moisture and never slip, for blister free running socks that perform whether you're running 2 miles or 26.2 miles.
Darn Tough running socks for women are made in the USA from ultralight Merino Wool. Merino's natural moisture wicking and thermoregulating properties keep your feet dry and just the right temperature, whether you're trail running in the summer, road running in the winter, or ultra-running in a downpour. For runners who prefer minimalist footwear, the women's no show run socks hit just below the ankle, while the quarter crew cover the ankle. For additional protection from dirt and debris, we knit a fun variety of colors and designs in our women's micro crew running socks.
Learn more about what makes these the best socks for running. Shop our entire selection of Running Socks.
FREQUENTLY ASKED QUESTIONS
Your running socks should be made of a breathable fabric that's durable and moisture-wicking – like Merino Wool. Darn Tough Merino Wool Running socks are the best choice for runners as they naturally prevent blisters, hold their fit, and keep feet dry even when you break a sweat.
Merino Wool Running socks are naturally thermoregulating and don't cause your feet to overheat. If your feet normally run hot, Darn Tough Running socks are designed to keep feet cool while you push the pace. They also actively prevent blisters and thwart hot spots before they form.
Yes, Merino Wool socks, specifically, are favored for runners who value fresh feet and high-quality performance in running shoes. Unlike coarse wool, Merino Wool is finer and naturally wicks moisture away from your body while keeping your feet cool and dry.
Spikes are designed to fit snug around your foot and might only fit with a thinner sock. But it's up to you to decide. At Darn Tough, we make running socks in varying weights, including ultra-lightweight for a next-to-skin feel that you can pair with your favorite pair of running spikes.
Long-distance runners prefer Merino Wool for its enduring comfort, performance fit, and long-lasting durability. It's the best performance fabric for ultra marathon runners because it's designed to go farther and won't give up even if your body is telling you to.