Filter Reviews
Fit
Quality
Weather
Cushion
Colors
Feel
Design
Socks
Fun
Support
Buy
Hole
...
Feet
Work
Toes
Pair
Friend
Bears
5.0 star rating

4.0 star rating

3.0 star rating

2.0 star rating

1.0 star rating
Can't bear putting him in a drawer!
Review by Nancy G. on 1 Aug 2019
review stating Can't bear putting him in a drawer!
I mean LOOK AT HIM!! Cute even when comfortably stretched around my ankle. Perfectly cushioned for in or out of the woods, washes well, now my new fav. Darn Tough deserves fierce loyalty for its excellent service, fast delivery and quality product!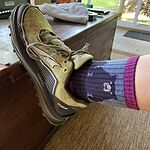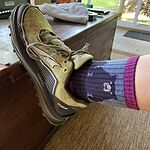 Darn Tough converted for life.
Review by Kate H. on 4 Aug 2020
review stating Darn Tough converted for life.
Best socks ever!
Juliann B.
5.0 star rating
Best socks ever
Review by Juliann B. on 3 Aug 2020
review stating Best socks ever
Best socks ever
Abigail S.
5.0 star rating
Will Always Recommend!
Review by Abigail S. on 3 Aug 2020
review stating Will Always Recommend!
Before moving to Wisconsin, I was hesitant to spend more money on wool socks and when I did I got a cheap pack of "wool" socks from Amazon and ended up spending $20 on a few pairs socks for the winter. When I finally invested in Darn Tough socks this past winter I was mad at myself for not doing it before. Not only are they the only things with a hope of keeping my eternally cool feet warm, but they feel amazing as soon as you put them on and can be worn more than once without feeling/smelling like old socks. I just got this pair and some other lighter ones for the warmer months and work, and again, I'm mad that I'm just now doing it. My college is full of outdoor rec people that told me about Darn Tough, but I've been spreading the word to anyone who'll listen, especially the big group of friends that go to a lot of festivals. If you're on the fence, just go for it, your feet will thank you!
The Best Sock. 👍
Review by Steve S. on 29 Jul 2020
review stating The Best Sock. 👍
Thanks for making a comfortable, durable product and delivering it so quickly.
The entire family wears them.
Please accept my thanks and appreciation for your good work.
Q: I am a size 7 shoe..Would you recommend small or medium. Hiking/walking in Germany and Switzerland. Is the bear socks enough cushion?
A: Hi Leslie! Some customers that fall on the upper end of a size run will choose to size up due to the snug performance fit of our socks, especially if they have a wide width. We know it can be tricky to size socks online so we do have you covered with free returns/exchanges for 90 days from your date of purchase, just in case.

The Bear Town is a great choice for hiking and touring around while traveling! They have a layer of terry loop cushioning along just the bottom of the foot for comfort and support without being too warm or bulky.
Q: Can you make these in men's large please.
A: We will let the team know that you were asking for these in men sizing!
Q: Can you please make the Women's crew socks taller or come up higher on the leg? After washing, even when washed in just warm water, the socks are always uncomfortable short. Please, please make them taller/ higher on the leg, like 4" -5" above the ankle bone. Thank you!
A: Hi J.P., thank you for your note! Our micro-crew models are designed to be shorter than the average crew sock and measure about 8.5 inches above the heel. Our boot and crew sock models are taller and measure 10-11 inches above the heel. Here is a
link
to the taller boot sock options available in our hike line. Please let us know if you have any other questions!