Filter Reviews
Fit
Weather
Quality
Breathability
Feel
Customer Service
Problem
Cushion
Amount
Work
Spots
Socks
...
Wear
Service
Feet
Pair
Return
Breathability
Feel
Customer Service
5 star rating

4 star rating

3 star rating

2 star rating

1 star rating
Better than Expected
Review by Harvey L. on 19 Jul 2019
review stating Better than Expected
I received my two pair of Tactical socks this week and was very excited to try them based on what other service members had told me about them. I was not disappointed! The days I wore my DT socks, my feet were dry and not wrinkled up at the end of the day. SALUTE! These should be standard issue! Thank you so much for supporting! I will be getting more soon!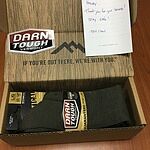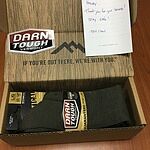 Frederic A.
5 star rating
Best Socks!
Review by Frederic A. on 6 Jun 2020
review stating Best Socks!
These are the greatest socks for hiking and really, any activity where you have to be on your feet all day long. I have tried many others, but they consistantly fall short. These are the best.
Great Product & Great Service
Review by Daniel B. on 5 Jun 2020
review stating Great Product & Great Service
I've been wearing DT for 2 years now. I wear them every day for work and some pairs finally gave out. The return/guarantee process was smooth and relatively quick considering we were in the middle of the COVID-19 pandemic. Customer service, whether on the phone or by email, was always super friendly and helpful.
DT wool socks for the rest of my life
Review by Michael C. on 5 Jun 2020
review stating DT wool socks for the rest of my life
Got my first pair of DT wools from my engineer who purchased them in Japan.
He gifted them to me while telling me they were the best socks for cold weather.

Wore them in NYC this past winter and they were not only warm they added cushion that was unbelievable as I walked all day.

I am in the process of converting all my cheap multi pack socks to DT's at the moment.

Just finished a two day carbine class in 85˚ weather and they kept me cool and comfortable all two days, and wanted to say a big thanks to my Vermont Brothers and Sisters for making a great American product.

I am telling everyone now that I want socks for Christmas as long as they are Darn Tough"s.
Great socks!
Review by David S. on 2 Jun 2020
review stating Great socks!
Great socks!