Filter Reviews
Size
Fit
Material
Calf
Look
Feel
Cushion
Socks
Combo
Replacement
Feet
Fan
...
Process
Pair
Warranty
Winter
5 star rating

4 star rating

3 star rating

2 star rating

1 star rating
Awesome!
Review by David R. on 27 Jan 2018
review stating Awesome!
I've been using this particular sock for years for all my outdoor activities which include hiking and canyoneering. It is my 'Go To' sock. I liked this sock so much that I did a video review on it and put it on my youtube channel. Have a look: https://youtu.be/yds-Zfv4eIg

Thank you for the new socks, I've already put them in use.If Darn Tough is looking to sponsor someone in the hiking/canyoneering sport...I'm your guy! Thanks for a great product!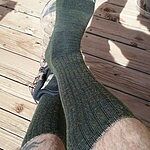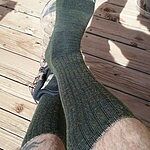 Fantastic socks
Review by Connie P. on 1 Jun 2020
review stating Fantastic socks
I'm going to buy five more pair and throw out everything else.....yes, they're that good!
Very Happy I Got These!
Review by Marcelo M. on 13 May 2020
review stating Very Happy I Got These!
The Standard Mid-Calf Light Cushion was perfect for what I needed in a sock. They stay in place when pulled up and the light cushion feels great while not too thick so as to make my shoes feel too tight. I was concerned at first they might not work for me since each sock wasn't specifically made for the Left and Right foot. But that is a non issue as the conform to the foot with no bunching. Ended up buying one for each day of the week.
Socks fit great and are
Review by Rick K. on 17 Apr 2020
review stating Socks fit great and are
Socks fit great and are really comfy
Darn Tough
Review by Charles T. on 30 Mar 2020
review stating Darn Tough
Darn tough, enough said.